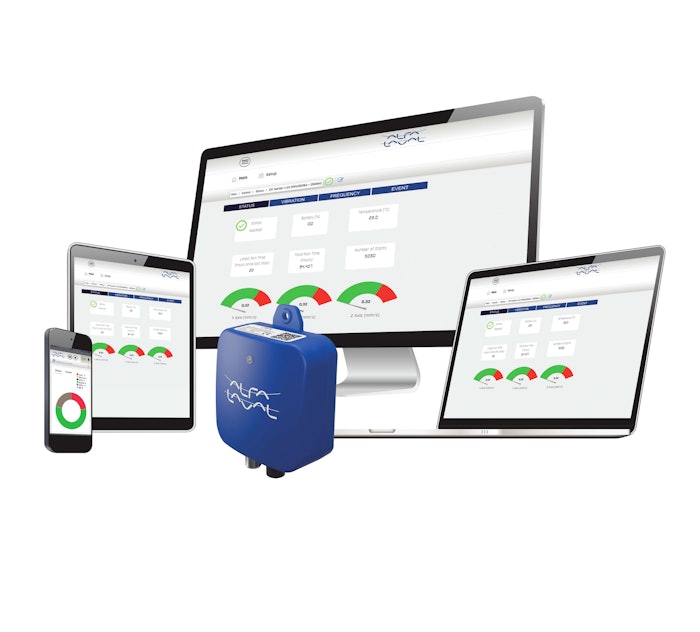 Alfa Laval's CM Connect is a subscription-based condition monitor and cloud gateway. It enables plant operators to access data of rotating equipment on processing lines from a remote location.
Related: Alfa Laval's ThinkTop V70 Upgrade Enhances Sustainable Manufacturing
With data on actual runtime, trend analysis and time to next service close at hand, plant operators can reportedly make informed maintenance decisions using personal computers and mobile devices. This can protect process continuity and critical assets, improve workplace safety, save time and money, and deliver competitive advantage.
CM Connect expands Alfa Laval's range of condition monitoring solutions. It acts as a gateway, communicating via Bluetooth and linking up to 10 Alfa Laval CM wireless vibration monitors. According to the company, advanced vibration analysis enables the detection of any deviation from pre-set equipment threshold values. Should deviations occur, an SMS or e-mail notifies users, who can take action in real-time based on data analysis.
Besides linking CM wireless vibration monitors, the CM Connect can also act as a sensor. It measures vibration, inboard temperature and total runtime when mounted on Alfa Laval LKH, SRU, SX and DuraCirc pumps or other rotating machines, such as agitators or mixers.
"The CM Connect lets plant operators plan and prioritize maintenance based on actionable data," says John Walker, portfolio manager of pumps at Alfa Laval. "Rather than replacing wear parts in advance of their useful service life, operators can spend time and money when and where maintenance is required."
See archived: Scale-up Success; Untapping the Potential of Computational Fluid Dynamics