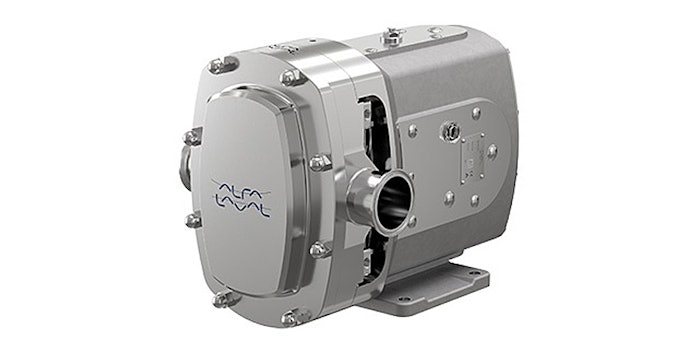 https://www.alfalaval.us/products/fluid-handling/pumps/circumferential-piston-pumps/duracirc/
Alfa Laval has designed its DuraCirc circumferential piston pump to deliver high efficiency, reliable operation, hygienic assurance with EHEDG and 3-A certification as standard, and ease of maintenance.
Recently: SP Hull LyoStar 4.0 Pilot Scale Freeze Dryer R&D Speeds Biologics to Market
The pump range features a wide performance envelope and low net positive suction head (NPSH) requirement. With flow rates up to 150 m3/hr (660 gpm), the pump is capable of handling operating pressures up to 40 bar (580 psi), which is reportedly 15% higher than other circumferential piston pumps. Optional ports are said to make it easier to replace existing pumps from Alfa Laval and DuraCirc brands without having to adapt pipework.
As noted, the pumps are certified to meet EHEDG guidelines and 3-A Sanitary Standards. For a crevice-free design with no dead zones, all product-wetted elastomers are made of FDA-conforming materials, and profiled and defined compression as standard—this is said to reduce contamination risks and cut both cleaning time and costs.
Seal positioning with seal faces fully immersed in the pumped media further boosts cleaning efficiency. Additionally, the all-stainless steel construction, suitable for hygienic washdown, ensures a cleaner environment. And pump options make the DuraCirc adaptable, increasing application scope; e.g., a wide range of sealing alternatives, an aseptic model, a heating/cooling jacket, horizontal and vertical mounting, and a rectangular inlet for high viscosity products.
Russ Kelly, portfolio manager for pumps at Alfa Laval stated: "The DuraCirc is a gamechanger. It's everything users want all in a single pump–the perfect balance of performance, hygiene and simpler service."