slide 1
slide 2
slide 3
slide 4
slide 5
Follow Us
Recent
Formulating
May 25, 2018
Regulatory
May 22, 2018
Testing
May 23, 2018
News
May 23, 2018
Current Issue:
May 2018
Product Roundup
May 2018 Roundup: Anti-acne Agents
The most recent product roundup featured:
Acne Care
Anti-Inflammatory
Sebum Control
Skin Balancers
The product roundup highlights ingredients and technologies from suppliers that have appeared in Cosmetics & Toiletries.
From Our Scientific Advisors
There are really two approaches in [the microbiome] space that Johnson & Johnson is actively pursuing. One is toward direct skin improvement; for example, by killing bad bugs or crowding them out. The other is specific to sleep research, where we look to the gut microbiome to improve health and sleep. By doing this, we can indirectly induce other positive effects—repair work happens, collagen is rebuilt, etc.—similar to nutrition.
Stefanie Dhanda (Guest Advisor)
Cosmetics & Toiletries magazine
Subscribe to Cosmetic & Toiletries Magazine to stay up-to-date on the industry and education you need to develop hi-tech, cutting-edge products including:
New technologies
Ingredients
Spa treatment trends
International regulation
Cosmetics & Toiletries Daily Newsletter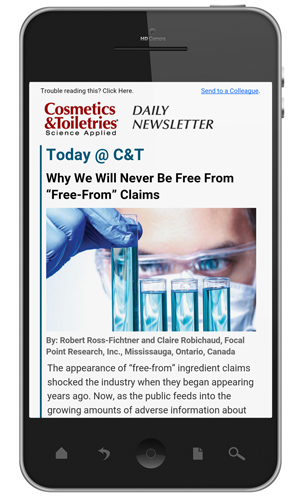 Packed with quick, daily information, the Cosmetics & Toiletries Daily Newsletter delivers:
Industry news
Formulation techniques
Top patent picks
Product development advances