slide 1
slide 2
slide 3
slide 4
slide 5
Follow Us
Recent
Formulating
Aug 21, 2018
Aug 21, 2018
Research
Aug 20, 2018
Aug 17, 2018
Regulatory
Aug 14, 2018
Testing
Aug 17, 2018
Aug 14, 2018
Current Issue:
July/​August 2018
Product Roundup
July 2018 Roundup: Natural and Sustainable Ingredients
The most recent product roundup featured:
Bio-based Alternatives
Sustainable Manufacturing
Botanical Skin Care
Renewable Sources
The product roundup highlights ingredients and technologies from suppliers that have appeared in Cosmetics & Toiletries.
From Our Scientific Advisors
Burt's Bees formulates under specific principles—rooted in the belief that healthy skin is balanced skin. We look to nature for ingredients that have the right nutritional profile, to feed skin and maintain its health. A new study found that our natural products actually outperformed the dermatologist-recommended synthetic regimen. I'm not saying natural is better but we have believed for a long time that they work as well as synthetic products. [I believe] this study shows they can.
Celeste Lutrario (Guest Advisor)
Cosmetics & Toiletries magazine
Subscribe to Cosmetic & Toiletries Magazine to stay up-to-date on the industry and education you need to develop hi-tech, cutting-edge products including:
New technologies
Ingredients
Spa treatment trends
International regulation
Cosmetics & Toiletries Daily Newsletter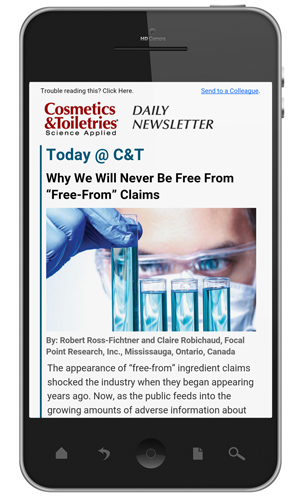 Packed with quick, daily information, the Cosmetics & Toiletries Daily Newsletter delivers:
Industry news
Formulation techniques
Top patent picks
Product development advances