slide 1
slide 2
slide 3
slide 4
slide 5
Follow Us
Recent
Formulating
Jun 22, 2018
Research
Jun 24, 2018
Testing
Jun 20, 2018
Current Issue:
June 2018
Product Roundup
June 2018 Roundup: Healthy Hair Care
The most recent product roundup featured:
Foaming Agents
UV Protectors
Sensory Modifiers
Shine Formers
The product roundup highlights ingredients and technologies from suppliers that have appeared in Cosmetics & Toiletries.
From Our Scientific Advisors
[Currently], I see three main areas [of innovation in hair]. The first is in naturals. Naturals are a point of entry ... for many brands—but not necessarily in a functional sense, more in the sense of image. I think these will become more functional. Another area is in targeted products for particular hair types. [And] This leads to a third trend; if you think about different hair types and needs, there is also a need for solutions in new formats.
Jennifer Marsh, Ph.D.
Cosmetics & Toiletries magazine
Subscribe to Cosmetic & Toiletries Magazine to stay up-to-date on the industry and education you need to develop hi-tech, cutting-edge products including:
New technologies
Ingredients
Spa treatment trends
International regulation
Cosmetics & Toiletries Daily Newsletter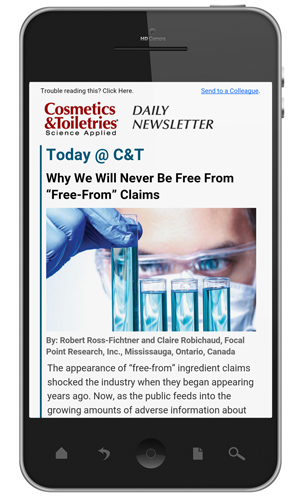 Packed with quick, daily information, the Cosmetics & Toiletries Daily Newsletter delivers:
Industry news
Formulation techniques
Top patent picks
Product development advances