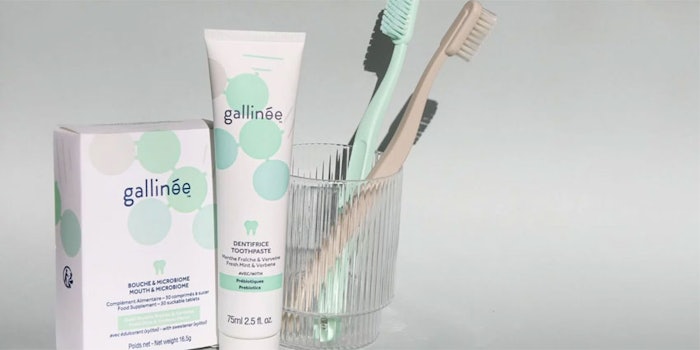 Gallinée is a skin and hair care manufacturer focused on products that preserve the health of the human microbiome. The company has now extended its reach with two launches in the oral care sector.
The new offerings include a prebiotic toothpaste and "Mouth and Microbiome" live probiotic supplement. The toothpaste is described as highly concentrated and enriched with prebiotics and xylitol to gently cleanse teeth while supporting the oral microbiome. In addition, it reinforces sensitive teeth and gums. It is offered in a fresh mint and verbena flavor.
Clinical testing shows the toothpaste helps remove plaque (-35% after 21 days, n = 20 subjects), and the majority of panelists agreed that it: is adapted to sensitive teeth and gums; respects the oral microbiome; gently and efficiently cleanses teeth; reduces the sensitivity of gums; helps protect teeth and strengthen gums; and offers complete care for the mouth.
The Mouth and Microbiome supplement is positioned as a "highly innovative suckable supplement to take on-the-go for 360° mouth and teeth care." It reportedly is formulated for oral well-being, contributing to the maintenance of teeth, gums and mucosa, and feeding resident "good" bacteria. It is offered in an extra minty flavor for an immediate fresh effect, and contains live probiotics while being vegan and gluten-, lactose- and sugar-free.
See related: Oral Care Refresh; Intersecting Function with Beauty and Innovation
"Gallinée is launching an Oral Care category today!" wrote Gallinée Founder Marie Drago, in a social media post. "I am so proud to present our toothpaste and Mouth and Microbiome supplements, [a]n innovative view on oral care, all seen from the microbiome point of view. Because your mouth is a planet. It's been in the works for a long time, and I could not be happier with the results."
Ingredients (toothpaste): Hydrogenated Starch Hydrolysate, Water (aqua), Hydrated Silica, Calcium Carbonate, Glycerin, Kaolin, Xylitol, Inulin, Alpha-Glucan Oligosac­charide, Butylene Glycol, Litsea Cubeba Fruit Oil, Mentha Arvensis Leaf Oil, Smallanthus Sonchifolius Leaf Extract, Xanthan Gum, Sodium Lauroyl Sarcosinate, Potassium Sorbate, Dehydroacetic Acid, Benzyl Alcohol, Citral, Limonene.
Ingredients (supplement): Bulking Agent (Isomalt), Gelling Agent (Acacia and Xanthan Gum 50/50), Sweetener (Xylitol), Anti-caking Agent (Stearic Acid), Mint Flavor, Bacteria (Lactobacillus Rhamnosus R0011), Verbena Flavor, Cholecal­ciferol (Vitamin D3), Biotin (vitamin B8).