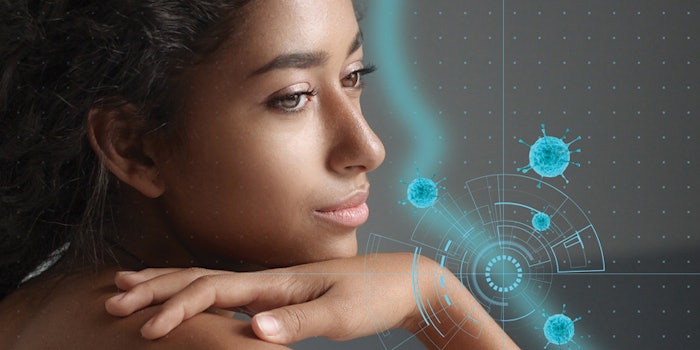 Read the full article in the June 2022 digital edition. . .
The pandemic and related quarantine generated, in the consumers, the need for greater protection—including for skin. New problems have emerged such as itching, dryness and cracking, induced by the daily use of aggressive alcohol-based antiseptics.1-3 Micro-inflammation, caused by stress, anxiety, poor hygiene and eating habits, which can compromise both the immune system and the microbiota.4-6 Dull skin and premature skin aging also have resulted from higher exposure to blue light from smartphones and other devices.7, 8
COVID-19 has deeply changed consumers' habits in personal care. A recent study of 2,000 people in the UK demonstrated that two out of three consumers (67%) are more afraid of germs and pay more attention to hygiene now than before the pandemic.9, 10 In addition, 61% of consumers worldwide reported they started to use hand sanitizers more frequently now than before the pandemic, due to the outbreak of the coronavirus. Cleansing and hygiene habits will last for a long time, due in part to the fear of other potential pandemics.
Terms and topics including immunocosmetic, multi-tasking, beauty and well-being, clean beauty, and clinical beauty are becoming more popular.11-16 Also, health, safety, well-being and self-care are the new priorities. These represent not only the global market for the next few years, but also a great challenge for the cosmetic sector.
As stated, everyday alcohol-based sanitizers are irritating to the skin. Moreover, they have short action, evaporating quickly after application. As an alternative, the industry has sought to improve the protective role of the skin itself as a primary barrier against microorganisms, pollutants and toxins. Therefore, a product that is not aggressive to skin and that imparts beneficial, lasting protection would represent a turning point.
Hydroxyapatite (HA) has become popular in technological research thanks to its multiple applications. As a biomimetic material, it can be used as a pharmaceutical carrier, for prosthetic bones, in aesthetic fillers, as a bioactive coating agent, etc.; furthermore, it represents a model compound to mimic and study the biomineralization process.17 In relation, calcium hydroxyapatite strongly interacts with viral envelopes, limiting the action of viruses and reducing the probability of infection.18
Inspired by hydroxyapatite's benefits, the present work describes the development of a sanitizing and hygiene-focused ingredient to bring lasting antiviral and antimicrobial protection. The compound is comprised mainly of a biomimetic hydroxyapatite (BHA) conjugated with the quaternary ammonium salt (QAC) cetylpyridinium chloride (CPC) that also works as a cationic surfactant.
. . .Read more in the June 2022 digital edition. . .
References
Prajapati, P., Desai, H., and Chandarana, C. (2022, Feb 8). Hand sanitizers as a preventive measure in COVID-19 pandemic, its characteristics and harmful effects: A review. J Egypt Public Health Assoc 97(1) 6.
Altunisik Toplu, S., Altunisik, N., Turkmen, D. and Ersoy, Y. (2020, Oct). Relationship between hand hygiene and cutaneous findings during COVID-19 pandemic. J Cosmet Dermatol 19(10) 2468-2473.
Daye, M., Cihan, F.G. and Durduran, Y. (2020 Nov). Evaluation of skin problems and dermatology life quality index in health care workers who use personal protection measures during COVID-19 pandemic. Dermatol Ther 33(6) e14346.
Chen, Y. and Lyga, J. (2014). Brain-skin connection: Stress, inflammation and skin aging. Inflamm Allergy Drug Targets 13(3) 177-90.
Cao, C., Xiao, Z., Wu, Y. and Ge, C. (2020, Mar 24). Diet and skin aging from the perspective of food nutrition. Nutrients 12(3) 870.
Shi, Z., Wu, X.; ... Hwang, S.T., et a. (2021 Jul). Short-term Western diet intake promotes IL-23-mediated skin and joint inflammation accompanied by changes to the gut microbiota in mice. J Invest Dermatol 141(7) 1780-1791.
Arjmandi, N., Mortazavi, G., Zarei, S., Faraz, M. and Mortazavi, S.A.R. (2018, Dec 1). Can light emitted from smartphone screens and taking selfies cause premature aging and wrinkles? J Biomed Phys Eng 8(4) 447-452.
Vandersee, S., Beyer, M., Lademann, J. and Darvin, M.E. (2015). Blue-violet light irradiation dose dependently decreases carotenoids in human skin, which indicates the generation of free radicals. Oxid Med Cell Longev 579675.
Karpuzoglu, E. (2021, Feb 25). 5 Skincare and wellness trends for 2021 and Beyond. Available at https://drebru.com/featured/5-skincare-trends-for-2021/
In-Cosmetics (2021, Feb 1). Hygiene products take centre stage. Available at https://connect.in-cosmetics.com/trends-en/hygiene-products-take-centre-stage/
Karpuzoglu, E. (2021, Mar 25). Immunocosmetics for the new normal. Available at https://bit.ly/3wj0iXT
Karpuzoglu, E. (2021, Feb 24). Trend alert: Beauty consumers are ready for immunity-boosting skin care. Available at https://bit.ly/3kXXElg
Karpuzoglu, E., Verzeaux, L., Lefevre, F. and Massard, S. (2021, Apr 30). Expert opinions: Restoring skin's homeostasis. Available at https://www.cosmeticsandtoiletries.com/research/consumers-market/article/21836086
Ferreira, D. (2021, Jan 6). Well-being and self-care are trends to watch. Available at https://bit.ly/3yzH2YW
Jindal, S. (2021, Oct). The big issue impacting personal care. Mintel. Available (for download) at https://www.mintel.com/mintel-presented-at-icis-2021
Culliney, K. (2020, Jun 10). Post-pandemic beauty: Blockchain and biotech set to thrive as safety fears soar, says expert. Available at https://bit.ly/3wiZzG9
Kokubo, T. (ed). (2008). Bioceramics and Their Clinical Applications. Woodhead Publishing, 367-394.
Lin, K. and Chang, J. (2015, Feb 27). Hydroxyapatite (HAp) for Biomedical Applications. Woodhead Publishing, 3-19.