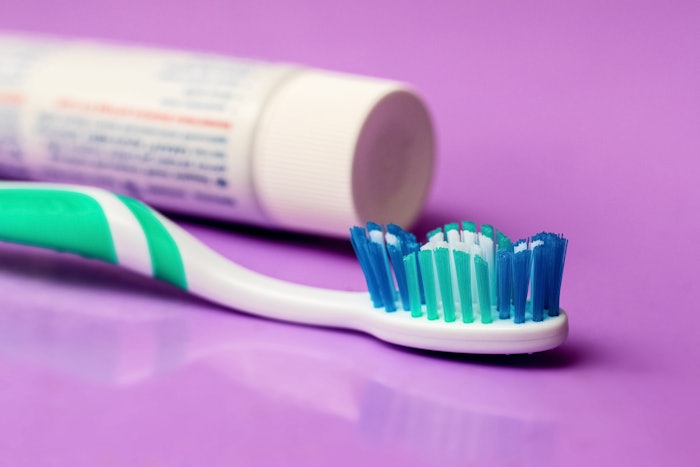 TikTok's latest trend to hit the market is as outlandish as anyone would expect. Purple "toothpaste" has garnered more than 96 million views on the app, with one popular brand generating over $7,000 a month on Amazon, according to explodingtopics.
As formulators might expect, purple "toothpaste" uses purple micro-particles to give the appearance of brighter and whiter teeth. Since purple opposes yellow, it can offset yellow discoloration and make the teeth appear whiter.
So while there is some science (i.e., color science) behind purple "toothpaste," its consumer success is largely due to the fun purple color. It does not, according to HealthNews, work by changing the teeth or removing stains.
Related: [video] Tiktok Trends and Cosmetic Hacks
One example of a purple "toothpaste" is the V34 Color Corrector Serum, which uses this color correction approach to counter balance the different hues in the teeth as well as conceal stains and improve the appearance of brightness. Importantly, the manufacturer does not claim V34 Color Corrector Serum to be a "toothpaste" anywhere in its descriptions. It is specified as a serum for color correcting and brightening and does not claim to offer the same benefits as a typical toothpaste. 
Besides the obvious difference in functionality, it is interesting to compare differences in the ingredients in this serum and a standard toothpaste. Crest Densify, for example, is formulated with stannous fluoride and fluoride ion, which are critical ingredients in standard toothpaste (see below for full ingredient disclosures). The toothpaste strengthens teeth, prevents future decay and creates 24-hr density protection, according to the company. 
Ultimately, this trend for purple "toothpaste" appears to be relatively harmless if the consumer knows to also continue using standard toothpastes that contain ingredients such as flourides, sodium bicarbonate and others. So the answer to: "Is TikTok's Purple 'Toothpaste' effective?" is no —at least not in the traditional sense. But it certainly works if you are counting social media hits. 
Ingredient Disclosures
V34 Color Corrector Serum: Glycerin, (Aqua) Water, Sorbitol, Hydrated Silica, Xylitol, Polysorbate 80, Cellulose Gum, Mentha Piperita (Peppermint) Oil, Phenoxyethanol, Sucralose, Tetrasodium Pyrophosphate, CI 17200/D&C Red No. 33, CI 42090/FD&C Blue No.1, Ethylhexylglycerin.
Crest Densify (Active): Stannous Fluoride 0.454%, Fluoride Ion 0.15%; (Inactive): Glycerin, Sorbitol, Water (Aqua), Hydrated Silica, Sodium Lauryl Sulfate, Sodium Citrate, Flavor, Sodium Gluconate, Carrageenan, Xanthan Gum, Sodium Saccharin, Cocamidopropyl Betaine, Sodium Hydroxide, Stannous Chloride, Sucralose, Titanium Dioxide.