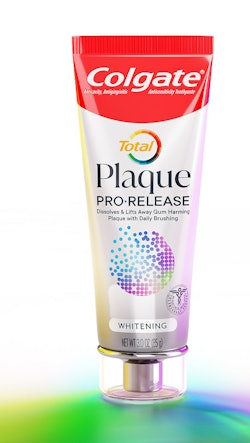 Colgate has launched its Total Plaque Pro-Release toothpaste, which offers long-lasting 24-hour antibacterial protection and is clinically proven to significantly reduce harmful plaque bacteria between dentist visits.
Total Plaque Pro-Release features a formula that uses Smart Foam Technology to penetrate hard-to-reach places and fight plaque bacteria along the gum line, improving long-term gum health and strengthening the foundation of a healthy smile.
In addition, the formula harnesses the power of Stannous Fluoride, an ingredient that helps reduce plaque bacteria and prevent gingivitis.
Total Plaque Pro-Release is available in Whitening and Fresh Mint at retailers nationwide.
Victoria Mah, head of integrated marketing and brand experiences, health and wellness, said, "We all want to feel confident in our health, but over 75% of people say that they are concerned about plaque. Many of us have also experienced that fear of disappointing the dentist or that worry of unwanted surprises during a visit. That's why we are excited to introduce Colgate Total Plaque Pro-Release, our newest innovation that is designed to fight plaque bacteria, so you can take control of your oral health and feel more confident going into your next appointment."
Raj Kohli, vice president of global R&D, said, "At Colgate, we are committed to relentless experimentation and creativity which has helped us develop products that promote healthy smiles for nearly 200 years. We are proud to continue this legacy with Colgate Total Plaque Pro-Release and arm consumers with a new innovation that is clinically proven to reduce plaque bacteria better than regular fluoride toothpaste."