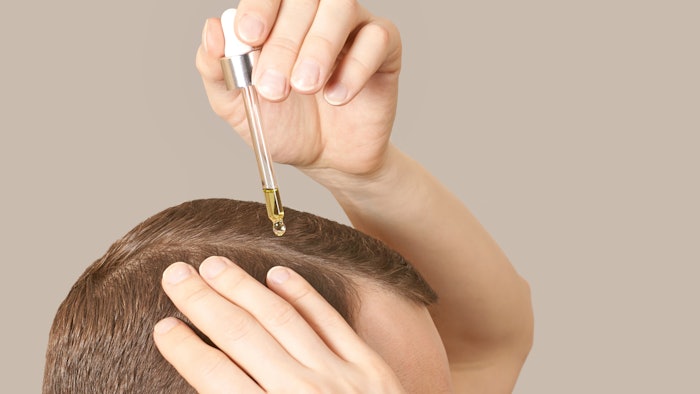 Hyaluronic acid, glycolic acid, ceramides and salicylic acid are all popular skin care ingredients but in recent years, these ingredients have been increasingly popular in hair care.
Related: Cosmetics & Toiletries Hair Treatments and Repair Formulary
For many years, the focus of hair care was to repair existing damage. However, the focus has shifted to both the hair and scalp, and scalp health has become the consumer's utmost priority. Products from shampoo and conditioners to scalp treatments have all been emerging with scalp health attributes.
As consumers are starting to understand that healthy hair begins with a healthy scalp, knowledge of the scalp microbiome also has increased. Brands such as Augustinus Bader, which is known for skin care, have taken the time to educate themselves about the scalp and have launched hair care lines alongside their skin care products. Besides Augustinus Bader, many other brands have launched products aligned with this skinification of hair, such as the Inkey List Glycolic Scalp Scrub and the Alterna Caviar Anti-Aging Intensive Ceramide Shots.1
Learn more about the skinification of hair at Beauty Acceleraten 2022. See the full conference schedule.
When it comes to treating the scalp, targeting the follicle site is crucial for hair follicle cycling and regeneration. A disrupted microbiome may cause infections and inflammation of the scalp. This disruption may depend on a person's hair follicle composition and penetration depth. Microbiome-host interactions also may aggravate scalp disorders, causing inflammation in superficial compartments of the hair follicle.
Thus, the type of microorganism, as well as characteristics of the skin barrier of the host, may affect how the organism and/or ingredient penetrates the scalp. And a better understanding of microorganism distribution and penetration in healthy and diseased scalp hair follicles may assist in developing effective formulations.2 As such, when developing a product, it will be important for the formulator to have an understanding of the scalp anatomy and the active ingredient used to create change in the scalp.
Although scalp health ingredients can be added to a variety of hair product types, serums and essences seem to be emerging as popular additions to hair care routines.
Also related: Nutrafol's First Topical: Hair Growth Serum
Thickeners
To create a serum-like product texture, water-based thickeners are ideal to emulate a low viscosity, gel-like feel. Thickeners in a serum will function by controlling the rheology, flow and texture of the formulation. These also help to maintain the homogenous distribution of any insoluble ingredients and stabilize the formula.
Synthetic polymers such as acrylic acids and carbomers can be used. These molecules create crystal clear gels and provide a water-like feel.
Gums such as guar gum, xanthan gum and carrageenan are also options to create a texture that has added slip and a slightly sticky residue in formulations. Cellulose is, likewise, an option to add slip to the formulation; some examples would be hydroxyethyl cellulose and hydroxypropyl cellulose. It is important to note that gum and cellulose are best when wetted with glycerin or propanediol before adding to water to minimize clumping during batching/compounding.
Humectants 
Humectants are generally hygroscopic substances that help to add water content to the top layer of skin by facilitating hydration. Humectants are compounds that attract and bind to water and are a part of the natural moisturizing factor (NMF). These materials can not only deliver hydration, but also can help to enhance the skin penetration of active ingredients with the use of alpha-hydroxy-acids (AHAs). 
AHAs work by promoting desquamation and improving barrier function with the increase of ceramide levels. Urea functions similarly to AHAs but with fewer side effects, e.g., itching and atopic dermatitis.3 The use of AHAs can additionally be used as chemical exfoliants for the scalp that assist with reducing sebum production and flaking of the scalp.
Other ingredients reported to help increase hydration and the NMF in corneocytes include honey, propylene glycol, sorbitol and hyaluronic acid. Ensuring that the corneocytes are repaired and the NMF are filled can ensure the scalp is looking plump and supple; this affects that hair by reducing frizz and brittleness while improving shine.
Microbiome
A variety of ingredients can support the skin microbiome but some can be applied to scalp care as well. Examples include:
preBIULIN AGA: preBIULIN AGA (INCI: Inulin) is a natural prebiotic that is reported to help rebalance the skin's microbiota and offer skin hydration that outperforms hyaluronic acid. The prebiotic is based on inulin extracted from chicory root and agave, and works by selectively supporting protective organisms to help restore the microbiota layer. It also has the benefit of counteracting potential skin damage caused by preservatives.4
Scalposine: Scalposine (INCI: Glycerin (and) Water (aqua) (and) Sarcosine) is said to effectively aid in the reduction of an oily scalp. It can help to reduce flakes on the scalp and assist in rebalancing the microbiome. In addition, Scalpsoine is reported to aid in the scalp microbiome's fight against stress, pollution and product build-up. It also can improve scalp comfort, with both immediate and long-lasting effects reported.5
Biocomide: Bicomide SM Control (INCI: Water (Aqua) (and) Lecithin (and) Niacinamide (and) Lysolecithin (and) Phenethyl Alcohol (and) Glycerin (and) Caprylhydroxamic Acid (and) Tocopheryl Acetate (and) Caprylyl Glycol (and) Phytic Acid), based on lamellar body-inspired delivery system, was designed to target the follicles. The ingredient is distributed in the epidermis surrounding the follicles and the flat skin areas, where it delivers actives to regulate sebum and the microbiome.6
Conclusion 
Historically, hair care was about repairing damage from tip to root. Now, the trend is focused on root—or scalp, to be precise—to tip. Many consumers are attracted to this approach, knowing that concepts that work for their skin can also be effective for their hair and scalp.
The transfer of skin care into hair care, i.e., skinification of hair, is novel but here to stay. However, as noted, having a basic comprehensive knowledge of how the scalp functions is vital to ensuring an effective product that performs as desired. Incorporating basics such as humectants and thickeners is important but selecting the correct active ingredients that perform as required is equally crucial.
Taken together, the skinification of hair is about growing healthy, strong hair from within and selecting the right ingredients that balance the scalp microbiome.
Previous "Formulating on Trend:" Liquid Blush
References
1. Forbes, J. (2022, Jan 7). 4 hair-care trends poised to take over 2022. Allure.com. Available at: https://www.allure.com/story/hair-care-product-market-trends-2022
2. Polak-Witka, K., Rudnicka, L., Blume-Peytavi, U. and Vogt, A. (2019, Apr 11). The role of the microbiome in scalp hair follicle biology and disease. Experi Dermatol 29(3) 286-294. Available at: https://onlinelibrary.wiley.com/doi/full/10.1111/exd.13935
3. Harwood, A., Nassereddin, A. and Krishnamurthy, K. (2020, Jun 2). Moisturizers. StatPearls. Available at: https://www.ncbi.nlm.nih.gov/books/NBK545171/
4. Ultra Chemical Inc. (Accessed 2022, Jun 24). preBiulin AGA. Available at: https://ultrachem.com/products/actives-and-biofunctionals/prebiulin-aga/
5. Prospector. (Accessed 2022, Jun 24). Scalposine. Available at: https://bit.ly/3ngBbRy
6. Prospector. (Accessed 2022, Jun 24). Bicomide. Available at: https://bit.ly/3yiAXQ3