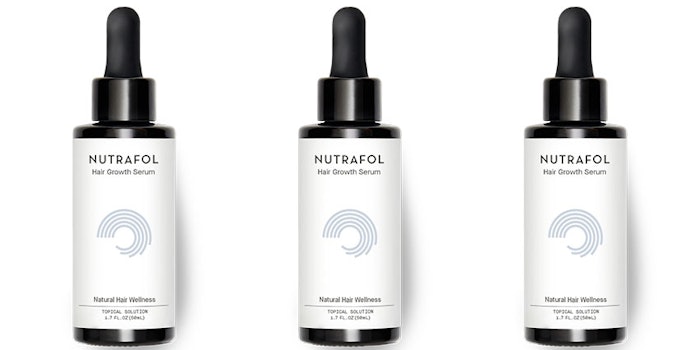 Nutrafol
Nutrafol has announced the release of its first topical product: Hair Growth Serum—a natural, lightweight, leave-in solution with a patented growth complex to reportedly support thicker, stronger hair by nourishing, hydrating and invigorating the scalp in targeted areas of concern.
Related: Nutrafol Anti-hair Loss Supplements for All
The topical serum can be used as a daily complement to Nutrafol's hair growth supplements to address hair thinning from the inside, out. The company explains that while the supplements play a primary role in improving hair growth by targeting root causes from within, the Hair Growth Serum plays a supporting role by providing nutrients and antioxidants topically.
According to the company, the formula's clinically tested ingredients showed results after three months of daily use. The phytoactive extracts support visibly denser hair growth that looks thicker and healthier; provide nutrient-rich ingredients help minimize breakage and promote stronger-feeling hair; and nourish, hydrate and invigorate the scalp for a healthy environment for hair to grow.
Key ingredients include:
A phytoactive growth complex: including a "patented blend of powerful antioxidants and minerals shown to support the growth of thicker-looking hair that feels stronger";
Pea sprout: an ingredient reportedly rich in protein and phytonutrients and shown to visibly increase hair density;
Sea buckthorn: a potent plant extract with antioxidants and omega fatty acids to nourish and hydrate the skin, and to promote scalp health; and
Moringa: An antioxidant-rich botanical with polyphenols that counter environmental stress and provide hydration for a healthy scalp.
Previously: 'The Wonder Tree': Moringa in Cosmetics
The serum is additionally free of synthetic fragrance, parabens, phthalates, silicones and sulfates. It is available exclusively to Nutrafol Pro Partners until June 2021.
Ingredients: Water (Aqua), Glycerin, Green Tea Leaf Extract, Glycine, Larix Europaea Wood Extract, Sodium Metabisulfite, Zinc Chloride, Pea Sprout Extract, Alcohol, Olive Leaf Extract, Turmeric Root Extract, Horsetail Extract, Sea Buckthorn Fruit, Neptune Kelp Extract, Maca Root Extract, Tea Tree Leaf Oil, Moringa Leaf Extract, Ginseng Root Extract, Panthenol, Theanine, Melatonin, Niacinamide, Sodium Dehydroacetate, Sodium Hyaluronate, Phytic Acid.