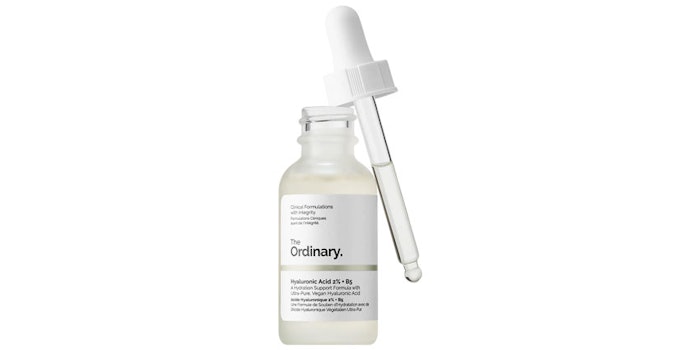 Deciem's brand The Ordinary designed its Hyaluronic Acid 2% + B5 Hydration Support Formula to synergistically combine low, medium and high molecular weight hyaluronic acid for skin benefits. The oil-free treatment is said to penetrate deeply to deliver intense, long-lasting hydration. 
Vitamin B5 reportedly enhances the product's effectiveness to leave skin smooth, plump and youthful-looking. Finally, its status as non-animal tested and free-from parabens, sulfates and mineral oil is highlighted. 
This column will review the ingredient listing for claims substantiation and functionality.
Editor's note: This article aims to provide an idea of the ingredients cosmetic manufacturers are using that could potentially support the stated product claims. Without specified use levels or access to clinical studies, the author is drawing conclusions based on speculation; albeit from years of clinical experience and, in some instances, evidence in the literature. The following is offered for your consideration and further verification.
Water and Oil
This formula is a water-based system containing the solvents pentylene glycol and propanediol. The lipophilic phase contains the skin-conditioning surfactants PEG-40 hydrogenated castor oil and hexylene glycol, as well as caprylyl glycol, which has added antimicrobial activity.
Surfactant, Chelant, Texturizer and More
PPG-26-buteth-26 serves as a surfactant. Trisodium ethylenediamine disuccinate is a chelating agent, while polyacrylate crosspolymer-6 enhances the texture of the formulation.
Citric acid is a pH adjuster and the system is preserved by ethylhexylglycerin, phenoxyethanol and chlorphenesin. Ethoxydiglycol contributes to the fragrance.
Active Ingredients
The active ingredients in the hydrophilic phase are hygroscopic macromolecular sodium hyaluronate and its crosspolymer; the humectant glycerin; and the soothing agents panthenol and Ahnfeltia concinna or marine red algae.
Conclusions
In my view, the ingredients in the formula support the claims for skin hydration and smoothing and plumping in the upper layers of the skin.
Ingredients: Water (aqua), Sodium Hyaluronate, Sodium Hyaluronate Crosspolymer, Panthenol, Ahnfeltia Concinna Extract, Glycerin, Pentylene Glycol, Propanediol, Polyacrylate Crosspolymer-6, PPG-26-Buteth-26, PEG-40 Hydrogenated Castor Oil, Trisodium Ethylenediamine Disuccinate, Citric Acid, Ethoxydiglycol, Caprylyl Glycol, Hexylene Glycol, Ethylhexylglycerin, Phenoxyethanol, Chlorphenesin
Source: The Ordinary website