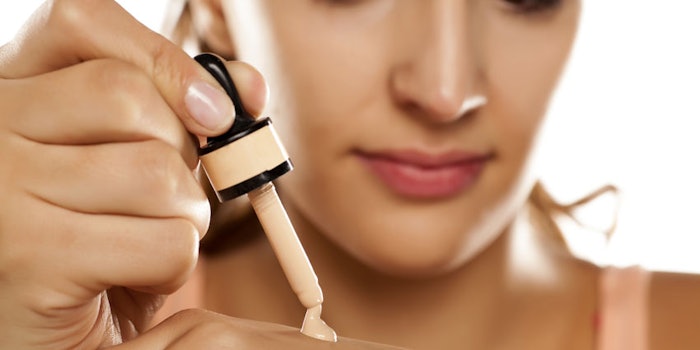 As consumers apply a cosmetic base product, such as foundation or primer, not only do they expect an even finish, but also a lasting effect, comfortable feel, smooth and even application, and UV protection. According to Kao inventors, to design products that meet these expectations, an in-depth understanding of their structure, distribution and other dynamics is crucial. For this reason, a new test method was developed. 
The method, based on Raman spectroscopy, is capable of visualizing the composition and distribution of each component within a film formed by makeup, such as a foundation, without disrupting the film. Findings from a study based on this method were presented at the 85th Society of the Cosmetic Chemists of Japan (SCCJ) Research Workshop, held in Tokyo on Nov. 27, 2019. 
Adaptive Measures
Base makeup film samples were prepared using a common liquid foundation, then observed by Raman spectroscopy. However, the internal structure could not be analyzed because the laser generated heat, destroying the film. In addition, the Raman signals for some of the components were excessively strong, making precise visualization impossible; further examination showed that iron oxide and titanium dioxide interfered with the makeup analysis.
As such, a model formulation was prepared by replacing these ingredients with talc, which allowed for the successful visualization of the makeup film, including organic and inorganic substances, as well as the distribution of each component in cross-sectional images. According to the company, the results confirmed that powder, which is lipophilic, and hydrophilic components formed micrometer-sized aggregations inside the base makeup film. In addition, the film was shown to be constructed by complex interactions between these components.
Visualizing Sebum
Next, the behavior of sebum, a major cause of makeup deterioration, was examined as a test application for this novel technique. While it was anticipated that sebum distribution in the film would be visualized by adding sebum to the test foundation, the oil contained in the base makeup and in the sebum model were indistinguishable. As such, a sensitive detection technique to replace some atomic elements of the sebum model with deuterium was adopted. Using this technique, the evaluation of the base makeup film was possible in terms of sebum resistance.
Results confirmed that sebum was not spread throughout the film, but rather was localized between the base makeup components. This suggested the base makeup film could contribute to the prevention of makeup deterioration due to sebum. 
Conclusions and Future Applications
The company concluded the new technique successfully clarified the composition distribution and sebum behavior in a base makeup film, which were previously difficult to understand or observe. Kao reportedly plans to develop highly functional base makeup products by use of this technology.