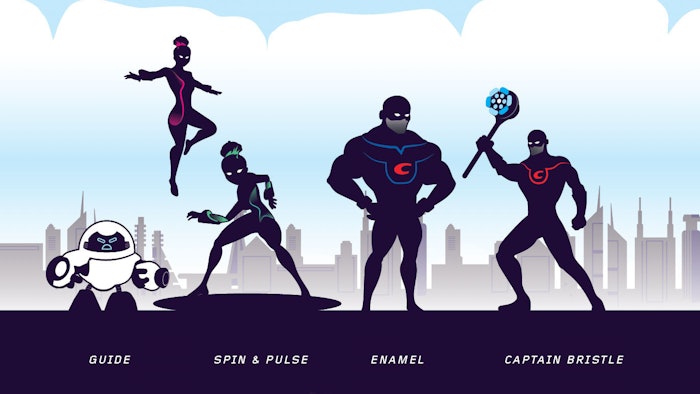 P&G's oral care brand Oral-B previewed its latest digital health innovations, to be featured at the 2022 Consumer Electronics Show (CES). These include CES Innovation Award Honoree Oral-B iO10 with iOSense, which aims to act as "the ultimate oral health coach;" greater access to the Oral-B iO lineup with the addition of iO4 and iO5 brushes; and the re-imagined "Attack of the Cavity Creeps" immersive video game.
Oral-B iO10 with iOSense
We're building a digital health ecosystem to take on the oral health crisis in America."
This rechargeable electric toothbrush offers an intuitive and connected experience that provides users with feedback on oral hygiene practices. iO10 provides live coaching directly on the iOSense Charger to guide time, pressure and coverage in real-time. It also includes a clock and timer to help users brush for the dentist-recommended 2 min. User brushing data then syncs to the Oral-B app for greater insights into brushing habits. According to P&G, with seven different cleaning modes, users can personalize brushing for a professional clean feeling at home.
See related: Elevating Oral Care; Free Ebook
Oral-B iO4 and iO5 Brushes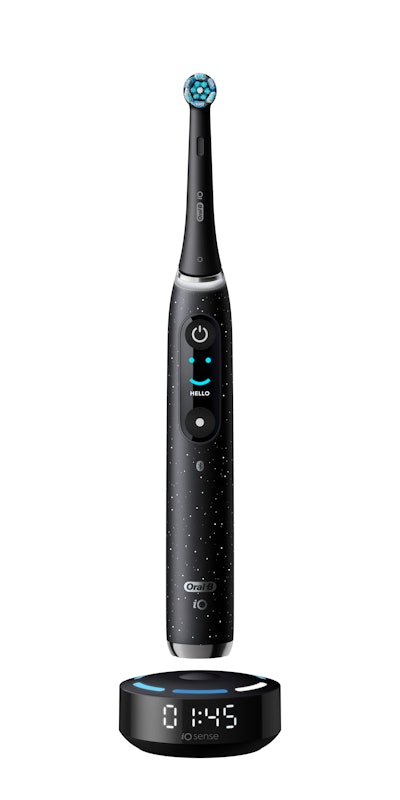 Featuring the same iO technology, the iO4 and iO5 brushes support better oral health for a greater number of users at home by improving brushing habits and providing a powerful clean. Each brush features multiple brushing modes to personalize the cleaning experience, reportedly with "rainbow" celebration lights upon the completion of brushing for 2 min, and refill LED reminders directly on the handles. The iO5 can also provide users with real-time coverage tracking and coaching via the Oral-B app.
Grin Teledentistry Partnership
Oral-B also is partnering with Grin, a leading teledentistry platform, to allow consumers to capture high-resolution images of their mouth using their smartphone, and securely transmit dental scans to their provider for an at-home consultation. Together, Oral-B and Grin hope to transform oral health by giving consumers access to personalized oral health insights and at-home professional consultations.
Attack of the Cavity Creeps
Finally, oral care education is a crucial part of overall health, and children are particularly susceptible to tooth decay. Knowing this, Oral-B and Crest developed an immersive video game, "Attack of the Cavity Creeps," based on the late 1970s/early 1980s ad campaign that teaches kids better oral health habits.
Being displayed at CES for the first time, the game will drop users into the middle of Toothopolis and complete missions to combat bad breath, discoloration, early signs of gum disease, enamel erosion and defeat General Decay. "Attack of the Cavity Creeps" will also be rolled out to kids and families as a part of Crest and Oral-B's commitment to "Closing the Smile Gap" through dental care access, education and oral care donations.
See related: Ninu Launches AI-powered Smart Perfume
Digital Health Ecosystem
"Our mission does not end at a smart toothbrush or better brushing coach; it is about developing a larger digital health ecosystem that leads with advanced technologies, accessible solutions and more effective educational tools to improve oral care and health for all," said Alita Vegas, P&G global oral care senior vice president. "With our latest announcements at CES 2022, we're building a digital health ecosystem to take on the oral health crisis in America." She added that Oral-B is committed to helping people across the globe access the best in oral care technology while teaching them about the dangers of tooth decay and encouraging healthy oral care habits.
"... In addition, I'm excited to announce the launch of Oral-B iO9 later this year in Latin America, allowing us to reach more global consumers than ever before," Vegas concluded. "This game-changing, rechargeable toothbrush brought consumers the ability to have a professional clean feel in just 2 minutes, and received the ADA seal of acceptance, recognized by dentists and consumers as the gold standard for evaluating the safety and efficacy of dental products."