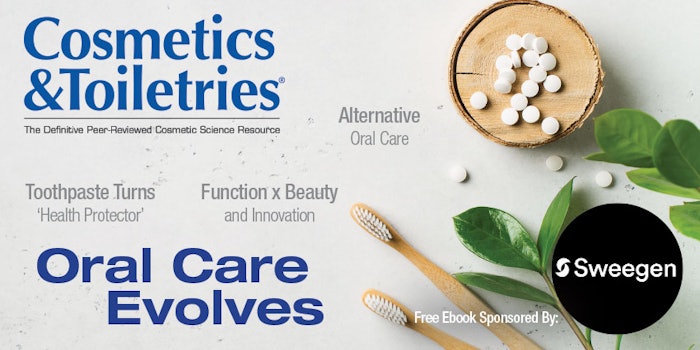 Oral care products today have come a long way from ancient abrasives that mainly scraped away food materials (and enamel). They have adopted foaming agents and sweeteners to improve efficacy and appeal; and added fluoride for cavity protection. They are also taking on new shapes and forms for modern concerns and preferences; e.g., tooth sensitivity, herbal flavors, functional flavors, tablet and chewing gum forms, microbiome care and more.
See archived: Formula Anatomy Deciphered—Toothpastes
This free e-book, Elevating Oral Care, sponsored by Sweegen, explores the latest innovations in oral care to reinvigorate and inspire next-gen product concepts. From a look at oral care's evolution and the market's "reawakening," to flavor innovations and natural and sustainable solutions, this e-book will help you brush up on your oral care knowledge and excite your senses for a taste of what's possible.
See related: [video] Cosmetics R&D Vlog; Microbiome Moves Toward Oral Care