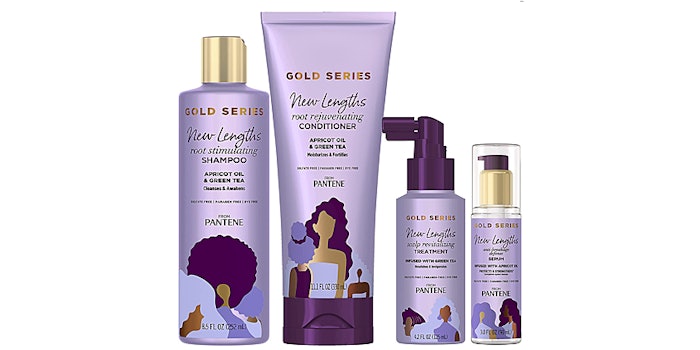 Image source: Procter & Gamble
The Gold Series New Lengths Collection from Pantene, a Procter & Gamble brand,  is a hair care regimen created by Black scientists to help retain hair length and strength.
Previously: Olay & Pantene Collaborate with Walmart to Launch Boosters for Skin and Hair
The collection is mainly formulated with apricot oil and green tea to nourish and protect the hair. The products in the collection are reportedly designed to work together to improve flexibility and give hair the strength to grow longer and stronger.
"Longer, stronger hair is a popular hair goal," said Ashley Taylor, Ph.D., Gold Series scientist. "Though for Black hair, growth is slower and much more prone to breakage due to its curly design. It can be 6× more fragile than straight hair and if it's relaxed or transitioning, it can be up to 30× weaker. We created the New Lengths Collection to specifically address these common frustrations. The collection moisturizes, strengthens and protects from root to tip for visibly longer hair that is retained over time."
Ingredients (New Lengths Root Stimulating Shampoo): Water (Aqua), Lauramidopropyl Betaine, Sodium Cocoyl Isethionate, Sodium Lauroyl Sarcosinate, Sodium Citrate, Fragrance (Parfum), Prunus Armeniaca (Apricot) Kernel Oil, Camellia Sinensis Leaf Extract, Menthol, Panthenol, Panthenyl Ethyl Ether, Histidine, Sodium Benzoate, Citric Acid, Sodium Salicylate, Polyquaternium-10, Tetrasodium EDTA.