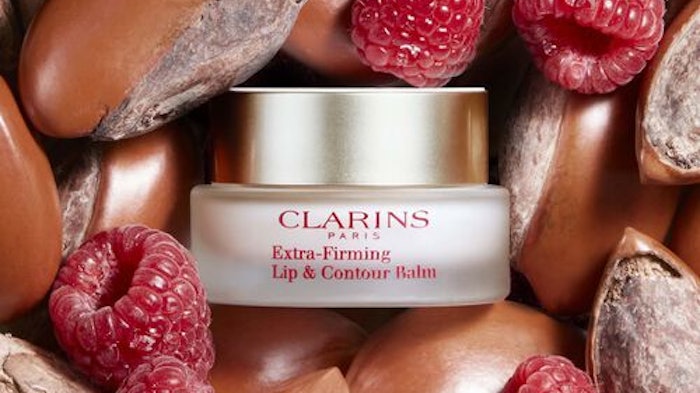 This "Read the Label" is focused on anti-aging lip care and the product under review is Clarins Extra-Firming Lip and Contour Balm.
Featured:  Formulating Forum: Lip-smacking Care Cosmetics—Addressing Lip Aging
Background in Positivity
Clarins was founded by Jacques Courtin-Clarins in Paris, France, in 1954. It started as an institute for positivity and to help women look and, more importantly, feel beautiful. The company became a successful skin care brand, soon spreading globally.
To this day, formulation and development work still takes place in France, where the family-run business sticks to the original philosophy of understanding the needs of women whilst developing safe, natural (where efficacy is not compromised over a synthetic alternative) and effective skin care products.
Lip Product Claims
Clarins claims this product soothes and smooths the lips with raspberry seed oil and shea butter. The balm is said to visibly repair, replenish, soften and moisturize chapped lips, as well as reduce the appearance of fine lines and wrinkles on the lip contour area. Lips reportedly will appear naturally fuller with a plumping effect and improve after every use.
To use the product, a small amount of balm is dispensed and massaged onto the lips and lip contour area. The ingredients below in bold are ones that I believe are strongly contributing to the product's performance and claims.
Ingredients: Paraffinum Liquidum, Microcrystalline Wax, Octyldodecyl Stearoyl Stearate, Paraffin, Octyldodecanol, Bis-Diglyceryl Polyacyladipate-2, Synthetic Wax, Butyrospermum Parkii (Shea) Butter, Rubus Idaeus (Raspberry) Seed Oil, Methyl Methacrylate Crosspolymer, Tocopheryl Acetate, Ethylhexyl Palmitate, Fragrance (Parfum), Bisabolol, Ammonium Glycyrrhizate, Tribehenin, Sorbitan Isostearate, Mica, CI 77491/Iron Oxides, CI 77891/Titanium Dioxide, Palmitoyl Oligopeptide, Linalool.
Microcrystalline Wax
This is a commodity synthetic wax that is a by-product from the crude petroleum industry; if you remove the oil from petroleum jelly (Vaseline), you are left with microcrystalline wax. It's a hard white wax that can come in the form of pellets or flakes, and it should be melted to temperatures of around 80°C/176°F before incorporation into a formulation.
In this lip balm formula, it is all one phase—consumers will notice there is no water phase, just oil. The microcrystalline wax will help to give the balm its firm structure in the pack. Quite often, synthetic chemistries are used in lip balm products because, in my opinion, you get better results in terms of moisturization and skin feel.
Paraffin
This ingredient is another by-product derived from petroleum. It is a stable, pure wax that has been used in cosmetic products for years. The wax has a reasonably high melting point (between 46-68°C/115-154°F) and will help support the structural integrity of the balm, which will easily apply shear and spread on the lips through force of touch. Paraffin will help create an occlusive layer on the lips that will prevent transepidermal water loss (TEWL), supporting the product's moisturization claims.
Bis-Diglyceryl Polyacyladipate-2
This vegan lanolin substitute is an ester that delivers long-lasting moisturization to the lips. It comes in the form of a soft wax with a melting point of around 40°C/104°F, so this will lower the overall melting point of the balm formulation to allow the product to melt upon touch and to increase spreadability.
Butyrospermum Parkii (Shea) Butter
Shea butter is incorporated in this product and with a melting point of roughly 35°C, it allows the balm to melt upon contact with the body. The shea tree is native to Africa where it produces small green shea fruit, which can be eaten. Inside the fruit, the shea nut can be found, which contains high levels of oleic and stearic acid.
The levels of these two fatty acids change the physical properties of the butter—higher stearic acid levels can make the butter firmer. Depending on the area where the shea tree is grown, the fatty acid component can vary and the physical properties of the butter can differ. Shea butter is commonly used in intensive nourishing treatments for dry, cracked skin.
Rubus Idaeus (Raspberry) Seed Oil
Raspberry oil is made from the small seeds of the raspberry. These seeds are cold-pressed to obtain a yellow oil, high in omega-3 and omega-6 fatty acids that provide an antioxidant effect to reduce free-radical damage on the lips.
Archived: Raspberry Stem Cell Extract to Protect Skin from Inflammation and Oxidative Stress
Quite often, the raspberry seed oil is obtained through an upcycled process from waste seeds that are leftover from the jam-making industry. Raspberry seed oil will also have gentle moisturizing effects and will provide mild emolliency to leave the lips feeling soft.
Methyl Methacrylate Crosspolymer
This synthetic powder filler is often used in face powders to "fill in the gaps" caused by wrinkles, as well as leave a great skin feel. The powder is made up of tiny spherical particles that impart a ball-bearing effect on the skin to create a silky feel.
In this lip product, the ingredient will help to fill in lip creases and create a younger-looking, fuller appearance, as well as increase the payoff from the balm. Methyl methacrylate crosspolymer is often described by formulators as providing a "silk veil" effect, with blurring properties and an excellent skin feel.
Palmitoyl Oligopeptide
Finally, this anti-aging peptide is widely used in the cosmetic industry, most commonly in  facial skin care but even found in nail and hair care due to its conditioning properties. The ingredient has clinical evidence to support its anti-aging effects through increasing collagen synthesis.1 Studies can be found online about how the peptide reduces wrinkle depth and length and smooths the skin surface.
The Clarins Extra-Firming Lip and Contour Balm can be purchased online or in stores at beauty retailers for £32 for 15 mL ($46 for 0.5 oz). 
Previously: Read the Label: Olay Regenerist–Ultra Rich Day Cream
References
1. Cosmetic Ingredient Review. (2012, Aug 13). Safety assessment of palmitoyl oligopeptides as used in cosmetics. Available at: chrome-extension://efaidnbmnnnibpcajpcglclefindmkaj/viewer.html?pdfurl=https%3A%2F%2Fwww.cir-safety.org%2Fsites%2Fdefault%2Ffiles%2Fpalmit072012slr.pdf&clen=334899&chunk=true