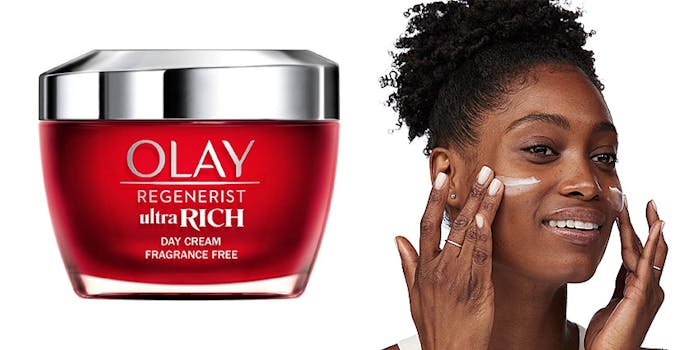 The focus of this 'Read the Label' is structural integrity; the product under review is Olay Regenerist's fragrance-free Ultra Rich Day Cream.
Previously: Read the Label: The Inkey List–Succinic Acid Acne Treatment
Background
In 1952, the iconic "Oil of Olay (ulay)" was first launched. This was a face moisturizer that was originally produced by a chemist for his wife. The product was an emulsion that had a pinkish tint and was in between a lotion and a cream in consistency.
Oil of Olay became a huge success and is what allowed the brand to delve deeper into the science behind the skin, and into innovative ingredients and technology to continue producing breakthrough products. 
In 1991, Olay was the first mass-market skin care brand to offer antioxidants and UVA/UVB protection;

In 2000, Olay Total Effects brought niacinamide to mass market skin care. This is now a key ingredient used in most Olay products due to its anti-aging behavior; and 

In 2002, Olay introduced peptides to the mass market. 
Olay now co-creates new products with thousands of women every year and has more than 20 million customers.
Some of the descriptions/claims the brand makes with this product include:
Daily face cream visibly renews the skin's natural glow;

Rich in texture, it melts upon application and quickly absorbs, leaving a non-greasy feel;

Unique formulation face cream with vitamin B3, peptides and shea butter;
Penetrates up to 10 layers deep into the skin surface;
Intensely hydrates skin for 24 hr;
Improves skin texture by encouraging surface cell renewal; and
Visibly transforms skin in 28 days.
The following ingredients in bold are ones I believe are strongly contributing to the product's performance and claims:
Ingredients: Water (Aqua), Niacinamide, Glycerin, Hexyldecanol, Dimethicone, Paraffin, Stearyl Alcohol, Polyacrylamide, Panthenol, Cetyl Alcohol, Butyrospermum Parkii Butter, Hydrogenated Polydecene, Tocopheryl Acetate, Palmitoyl Pentapeptide-4, Hydroxyacetophenone, Laureth-7, Cetearyl Alcohol, Cetearyl Glucoside, Behenyl Alcohol, Arachidyl Alcohol, Disodium EDTA, PEG-100 Stearate, Polysilicone-11, C13-14 Alkane, Phenoxyethanol, Benzyl Alcohol
Editor's note: While the "Read the Label" series provides an overview of the ingredients cosmetic manufacturers use and their related claims, without use levels or access to clinical studies, the author is drawing conclusions based on speculation—albeit from training, formulating experience and, in some instances, evidence in the literature. The following is offered for your consideration and further verification.
Niacinamide
This is also known as vitamin B3 and is used as a key active ingredient in most Olay products due to its many benefits.
Related: Halloysite Clay May Deliver Retinol, Niacinamide and Glycolic Acid to Skin
Niacinamide is proven to strengthen the skin barrier, restore structural integrity and improve uneven skin tones, so this ingredient is great for dull skin and dark circles to produce a radiant glow. It can also reduce the appearance of skin pores and dry patches.  
Glycerin
Glycerin will support the 24 hr skin moisturization claim that the brand uses. It does this with its powerful humectant properties, continuously drawing in moisture from its surroundings into the skin.
Hexyldecanol
This is an emollient that helps to boost skin moisturization, as well as increase the overall spreadability of the product to help it glide across the skin with reduced drag. 
Dimethicone
Dimethicone is a general INCI name for a variety of silicone products; usually a chemical structure with methyl groups attached to a siloxane backbone. Depending on the chain length and positioning of the methyl groups, this affects the viscosity of the product.
Dimethicones are mostly used for their skin feel but they do have other benefits, too as the lower viscosity grades can be extremely volatile and can help a product to dry quickly (for example, a 0.65 cSt). A commonly used viscosity grade is 350 cSt, as it has a similar viscosity to water, just slightly thicker, which can produce rich, soft and glossy emulsions. 
Paraffin
This is what I would refer to as an "old school wax." It's a by-product derived from petroleum, and is a stable and pure wax, which has been used in cosmetic products for several years.
The wax has a reasonably high melting point (between 46-68°C/115-154°F). This will help support the structural integrity of the emulsion by increasing the viscosity and creating unique rheology that makes the product appear firm and rigid in the pack, but it will easily melt and spread upon force (shear-thinning flow), and quickly absorb in the skin, leaving a non-greasy feel.
Paraffin will help to support the 24 hr moisturization claim, along with other ingredients such as glycerin, as stated, in the formulation. 
Panthenol
This ingredient has a molecular weight of 205.251 g/mol, meaning it will most likely penetrate deep into the top layers of the skin, according to the 500 Dalton rule (most materials less than 500 Daltons in molecular weight can penetrate deeper into the skin).
Panthenol (vitamin B5) supports the company's claim, "penetrates up to 10 layers deep into skin surface," and it brings other benefits to the skin such as soothing, conditioning and reduction of redness. 
Featured: Cosmetics & Toiletries Soothing Skin Formulary
Butyrospermum Parkii Butter
Shea butter is a claimed ingredient on the pack, and is known for its rich moisturization and nourishing properties. It has a melting point of roughly 35°C/95°F, making it melt upon contact with the body and it exhibits a thixotropic behavior, meaning the finished cream will be fairly heavy at first but after energy is applied through rubbing, the cream will melt into the skin. Shea butter is commonly used in intensive nourishing treatments for dry, cracked skin.
The shea tree is native to Africa, where it produces small green shea fruit, which can be eaten. Inside the fruit, the shea nut is found, which contains high levels of oleic and stearic acid. The levels of these two fatty acids change the physical properties of the butter—higher stearic acid levels can make the butter firmer. Depending on the area where the shea tree is grown, the fatty acid component can vary and the physical properties of the butter can differ. 
Palmitoyl Pentapeptide-4
This is a popular peptide known by the trade name Matrixyl*. It is made up of matrikines (i.e., a molecule containing a peptide that is made up of shorter chain amino acids) that sends a signal to regulate cell activity.
Matrixyl has strong data to support the wound healing process, allowing the skin to regenerate and connective tissue to remodel. This data supports anti-aging claims, creating a more youthful appearance via reduction of fine lines and wrinkles after a few weeks of use.
Also related: Olay Debuts Premium Body Care Collections
Just like panthenol, the ingredient has a unique chemical structure, allowing it to penetrate deeper into the layers of the epidermis to support the, "penetrates up to 10 layers deep into skin surface," claim that Olay makes with this product.
*Matrixyl is a registered trademark of Croda/Sederma.
Polysilicone-11
This is a patented silicone elastomer that imparts a creamy skin feel upon application to leave a soft, powdery touch after use. This ingredient delivers a long-lasting skin barrier function, is non-tacky and it provides a blurring effect, whilst absorbing sebum to minimize shine on the skin over time.
Polysilicone-11 is non-comedogenic and it extends the playtime of this product on the skin, making it more spreadable and enhancing the overall sensory experience for users.

Use Instructions
To use the day cream, the product should be warmed between the hands and massaged into a freshly cleansed face. The three areas of focus for this product include around the eyes, jawline and neck, finishing with the neck and décolletage. Any excess product can be smoothed into the back of the hands to hydrate cuticles and leave the skin feeling soft. 
This product can be purchased online or in-store at beauty retailers for £34.99 for 50 mL ($38.99 for 1.7 oz). 
Source:The Inkey List
Disclaimer: This article was produced in the UK and therefore the INCI listing and INCI names comply with European labeling requirements.