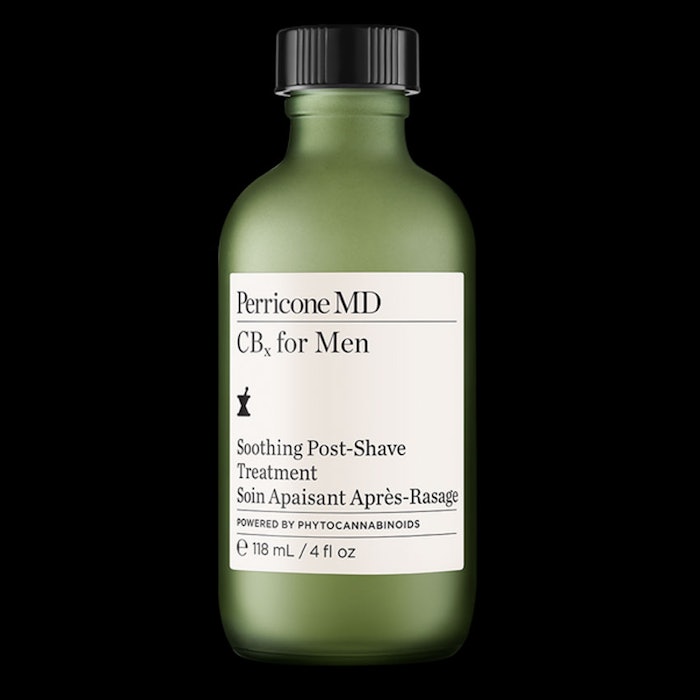 This Soothing Post-Shave Treatment by Perricone MD is based on a recently explored technology: phytocannabinoids—i.e., cannabinoids found naturally in the cannabis or hemp plant. These compounds are reported to demonstrate soothing and antioxidant properties for skin.
The lightweight, refreshing treatment is said to gently relieve irritation from razor burn, minor nicks and cuts, and to cool skin after shaving. The product contains a woodsy green fragrance with a subtle top note of fresh hemp.
Touted as suitable for all skin types, and being free from alcohols and sulfates, the product is reviewed in this column to see if its ingredients support these claims.
Water Base and Emollients
The formula is a water-based emulsion containing the humectant glycerin and plant extracts. Propanediol is a glycol that enhances absorption and imparts hydrating and smoothing properties. The emollients in the formulation are ethylhexyl palmitate, a solvent that provides dry skin-feel (similar to silicone derivatives); and octyldodecanol, a texture-enhancing emollient.
Surfactants, Stabilizers and More
C12-20 alkyl glucoside is a surfactant and emulsifier, while C14-22 alcohols and xanthan gum stabilize the emulsion. Aluminum starch octenylsuccinate and carbomer are viscosity-increasing agents.
Sodium hydroxide is a buffer and tetrasodium EDTA is a chelating agent. Ethylhexylglycerin, phenoxyethanol and benzyl benzoate are preservatives. Finally, butylphenyl methylpropional and taurine form part of the fragrance.
Active Ingredients
In terms of active ingredients, Eleutherococcus senticosus, also known as Siberian ginseng, is a plant used in traditional medicine in China and Russia to stimulate the immune system, prevent infection and combat fatigue. Its active constituent, phlorizin, increases keratinocyte proliferation and the expression of type IV collagen.1 The extract also has an anti-oedema effect.2
Chlorella vulgaris/Lupinus albus protein ferment is a liquid obtained from the fermentation of Lupinus albus protein by the algae. It is marketed as an anti-stress, moisturizing and regenerating ingredient.
Hordeum vulgare (barley seed) extract has demonstrated antioxidant properties and cannabidiol has been found to exert sebostatic and anti-inflammatory effects on sebocytes.3 Aloe vera improves wound healing and has soothing and anti-inflammatory properties.4 Finally, witch hazel is an effective and well-tolerated treatment for inflammation.5
Conclusions
In my view, the ingredients appear to support the claims for hydrating, soothing and refreshing skin, and providing relief from irritation caused by shaving. However, for men with sensitive skin, caution should be advised with its use.
Ingredients: Water (aqua), Ethylhexyl Palmitate, Glycerin, Octyldodecanol, Aloe Barbadensis Leaf Juice, Aluminum Starch Octenylsuccinate, Hamamelis Virginiana (Witch Hazel) Water, Xanthan Gum, Ethylhexylglycerin, Cannabidiol, Taurine, Acanthopanax Senticosus (Eleuthero) Root Extract, Chlorella Vulgaris/Lupinus Albus Protein Ferment, Hordeum Vulgare Seed Extract, Tetrasodium EDTA, Carbomer, Sodium Hydroxide, C14-22 Alcohols, C12-20 Alkyl Glucoside, Propanediol, Phenoxyethanol, Menthyl Lactate, Fragrance (parfum), Butylphenyl Methylpropional, Benzyl Benzoate
Source: Perricone MD
References