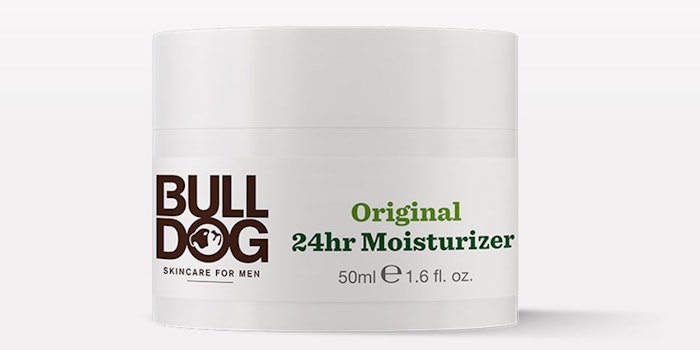 Bulldog Skincare
This 'Read the Label' reviews Bulldog Skincare's Original 24 Hour Moisturizer. Specifically catered to men's skin needs, this cream is claimed to provide 24 hr moisture to alleviate dry skin.
Related: At First Blush: An Overview of the Male Cosmetics Market
Male grooming is a booming industry. For years, it was the same multinational brands paving the way for men but recently, an abundance of new brands has emerged. Although the majority of launches are still shaving and deodorant products, categories such as sheet masks, eye care and makeup are popping up, too.
In this male grooming edition of "Read the Label," I'll be reviewing Bulldog Skincare's Original 24 Hour Moisturizer.
Bulldog Skincare is a British brand that started out in 2005 when brand owner Simon Duffy realized he was using products almost for the sake of it, without actually enjoying what he was using. He created a skin care range focusing on regular, dry, sensitive, oily or mature skin.
The brand was a success and it now sells all over the world and has expanded into male lip care, face masks, beard styling, shampoos, conditioners and even natural deodorants. The brand does have a strong focus on natural ingredients but is open to synthetic materials so that the performance of products is not compromised.
Product Claims
Bulldog claims that the Original 24 Hour Moisturizer is a rich, non-greasy cream that contains Aloe vera, camelina oil and green tea specially to help relieve dry skin and deliver 24 hr moisturization. The brand also claims that it leaves skin feeling firm, smooth and nourished. The product should be applied to the face and neck morning and night after cleansing.
The ingredients below in bold are ones that I believe are strongly contributing to the product's performance and claims:
Ingredients: Water (Aqua), Ethylhexyl Palmitate, Prunus Amygdalus Dulcis (Sweet Almond) Oil, Glycerin, Glyceryl Stearate Citrate, Aloe Barbadensis Leaf Juice, Sodium Polyacrylate, Cetearyl Alcohol, Camelina Sativa Seed Oil, Phenoxyethanol, Sodium Stearoyl Glutamate, Fragrance (Parfum), Benzoic Acid, Dehydroacetic Acid, Limonene, Camellia Sinensis (Green Tea) Leaf Extract, Evernia Prunastri (Oakmoss) Extract, Linalool, Citronellol, Geraniol, Tocopherol, Potassium Sorbate, Sodium Benzoate, Citric Acid, Sodium Hydroxide.
Previously: Formula Focus: Soothing Skin Cream for Men
Editor's note: While the "Read the Label" series provides an overview of the ingredients cosmetic manufacturers use and their related claims, without use levels or access to clinical studies, the author is drawing conclusions based on speculation—albeit from training, formulating experience and, in some instances, evidence in the literature. The following is offered for your consideration and further verification.
Ethylhexyl Palmitate
This emollient acts as a skin-softening agent. It is well-known in the industry for its high safety profile for human skin. It helps to increase the spreadability of the formula whilst improving skin and hair conditioning.
Prunus Amygdalus Dulcis (Sweet Almond) Oil
Slightly yellow in color, this oil contains high levels of oleic acid, which provides emolliency for soft, supple skin. Its lightweight application makes it an ideal emollient choice for a non-greasy product.
Aloe juice is a classic ingredient for cooling and skin-soothing properties. It has anti-inflammatory benefits to treat irritation and is particularly good for post-shave areas like the beard. 
Sodium Polyacrylate
This was one of my favorite ingredients to formulate with due to its ease of use. It is usually in liquid form and added to a formula to instantly thicken and create thick, bouncy textures (depending on the usage level).
This synthetic polymer can be used alone or in this case, in combination with other emulsifiers. It has been added as a stability aid to help keep the emulsion together, as essential oils are used to fragrance the product and these have a tendency to cause emulsions to split over time.
Camelina Sativa Seed Oil
This oil is known as the "gold of pleasure oil" and is native to Europe. It is one of the richest sources of alpha-linolenic acid, typically 30-40%, and contains a rare high content of omega-9: eicosenoic acid (10-15%).
Also related: Read the Label: Perricone MD's Soothing Post-Shave Treatment for Men
These fatty acids help to keep the skin nourished, moisturized and healthy. The oil on its own is nice to touch, spreadable and leaves the skin soft.
Camellia Sinensis (Green Tea) Leaf Extract
This ingredient is a powerful antioxidant that contains green tea catechins. It helps with skin repair, reducing free radical damage and offering anti-aging benefits, too.
In-use Testing
I was given this product as a freebie many years ago (a men's skin care brand is not something I would usually purchase) but I'm so glad I "gave it a go" because I really like it and it is now a regular purchase for me.
It's a high viscosity cream, so a small amount goes a long way. It's in a little pot but it picks up well by gently gliding a finger over the product. At first, it is expected to be greasy as it feels incredibly rich when applying to the skin but it dries quickly and is not greasy in the slightest, which shocks me every time I use it.
The product contains a subtle balance of essential oils that, for me, identifies it as a masculine product but it is subtle and you could classify it as unisex. There are top notes of bergamot and citrus, medium notes of geranium and patchouli with base notes of cedarwood and vetiver.
Bulldog claims 24 hr moisturization and in my opinion, it does the job. My skin felt soft and dewy to the touch but also firm and plump, even the next day after use. This product is also great for dry patches.
This moisturizer is available at various pharmacies and retailers. I paid £10.00 at Walgreens/Boots for 50 mL ($12 for 1.6 fl. oz.).
Source: Bulldog Skincare

Disclaimer: This article was produced in the UK and therefore the INCI listing and INCI names comply with European labeling requirements.