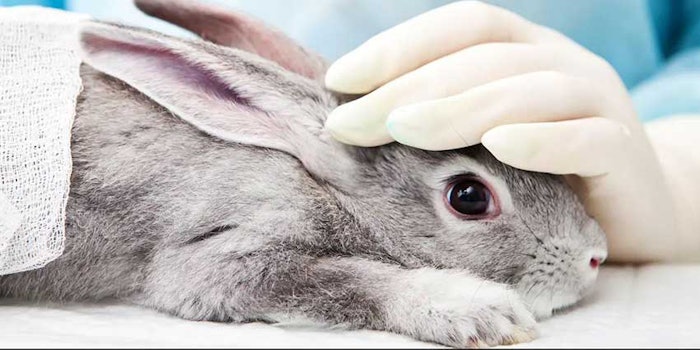 This week, Mexico's Senate and the Senate Health Committee unanimously endorsed a bill that would outlaw animal testing for cosmetics.
Related: Making Moves Toward an Animal Testing-free Future
As Humane Society International (HSI) explained, the bill would make it illegal to conduct any animal testing for cosmetics in Mexico. It would also outlaw the manufacture, import and marketing of cosmetics tested on animals.
The bill may have exceptions similar to the California Cruelty-free Cosmetics Act; i.e., in cases where animal testing is required depending on where the cosmetics are being sold. This mainly pertains to China, where animal testing is mandatory on all imported, non-special use cosmetics and products generally cannot be certified as cruelty-free.
Mexico's ban on animal testing bill will move forward to the Chamber of Deputies and if it becomes law, Mexico will be the first North American country and the 40th country globally to ban animal testing.
Previously: Will the U.S. Finally Ban Animal Testing for Cosmetics?
Last November, HSI and Te Protejo started a Change.org petition to outlaw cosmetic animal testing in Mexico. Just a few months later, more than 21,000 people signed the petition, in part pushing legislators to put the bill through Mexico's legislative system.
The organization Cruelty Free International (CFI) also applauded Mexico's Senate for the proposed ban. "Every bill brings us closer to a global end to this cruel and unnecessary practice. We would urge the USA to follow suit and get the Humane Cosmetics Act on the statute books as soon as possible," CFI's Head of Public Affairs North America, Monica Engebretson, said in a statement. 
Also related: Estée Lauder Expands Partnerships with Humane Society, Cruelty Free International
Non-animal testing also is becoming very attainable, considering there are many alternative methods of cosmetic testing.
"We commend Senators Ricardo Monreal, Jesusa Rodríguez and Verónica Delgadillo for sponsoring this bill, and we congratulate the Health Committee and all Senators for supporting our #BeCrueltyFree campaign and voting in favor," said Anton Aguilar, executive director of Humane Society Mexico. "This brings us one step closer to ending unnecessary animal cruelty in the cosmetics industry and demonstrates Mexico's leadership within the Americas."
Follow us for more updates on Mexico's proposed ban and other animal-testing news.