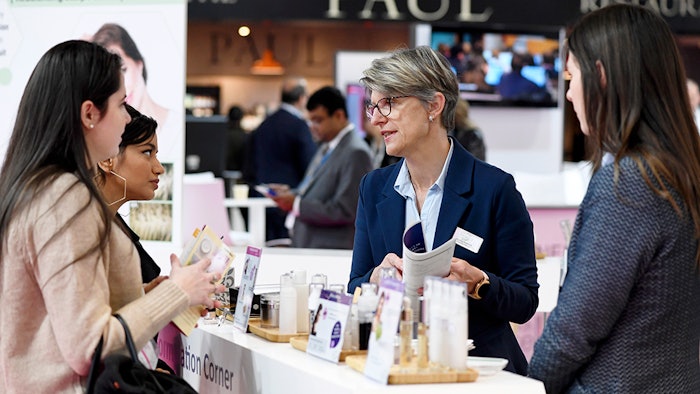 in-cosmetics Global organizers have published the shortlist for the 2022 awards, which highlight the latest ingredient innovations that combine science and product features in a way that demonstrates substantial benefits to manufacturers and end-users. 
Featured: in-cosmetics Global 2022 Focuses on Testing and Regulation
According to the organizers, this year has been a record-breaking year for innovation. More than 180 entries were submitted across categories including the Innovation Zone Active and Functional Ingredients and the Green Ingredient Award. In the end, 50 were shortlisted in the four different categories (see below).
The winners will be announced when the show returns to the Paris Expo Porte de Versailles in April 2022. Unlike previous years, the awards will be virtually broadcasted as the winners are presented their trophies on their stands, announced on social media and the in-cosmetics Global virtual platform. 
Judging Panel
The judging panel for this year's Innovation Zone Awards include:
Armelle Berthier, R&D project manager of Yves Rocher

Barbara Brockway, Ph.D., scientific advisor of personal care industry and trustee, fellow and honorary m

ember and past president of the Society of Cosmetic Scientists (SCS)

Andrea Mitarotonda, Ph.D., of CChem FRSC and independent consultant in cosmetic chemistry

Hugo Tanner, innovation raw material manager of L'Oréal

Lorna Radford, M.D., of Enkos Developments

Luis Allo, director of external innovation at Johnson & Johnson

Muriel Pujos, innovation ingredients director of innovation and technologies department at R&D Monaco, COTY

Thierry Oddos, director of R&D at Johnson & Johnson
Active Ingredient Award Shortlist
Chromazone by Normactive

:

 Featuring upcycled pomegranate pericarp extract, Chromazone is a natural active ingredient in a liposome-based formulation designed to protect hair against color bleeding, as well as damaging aggressors such as UV rays, by its potent antioxidant content. With its high affinity to keratin, Chromazone forms a film layer on the hair cuticle and locates in the cortex by passing through the cuticle thanks to its submicron particle size.
Skin'calm by Berkem: Skin'calm is an extract of flowers from Acacia plantations in France. Developed using ingredients of 100% natural origin, Skin'calm is rich in sugars and polyphenols. It fights against some skin disorders by soothing the skin, rebalancing its pH and correcting imperfections.
Sphinox Defenda by Evonik Operations GmbH: Sphinox Defenda is a protective agent. It is a bioactive sphingolipid, a derivative of the naturally occurring phytosphingosine, that offers various skin defense and protection benefits. It accelerates skin regeneration due to DNA protection and re-balances skin tone after summer stress. It provides anti-oxidative properties, daylight defense on a cellular (DNA) level and fights environmental aggressions.
Suga Det LSDG by Colonial Chemical Inc: Suga Det LSDG is a liquid blend of a mild, high foam sulfosuccinate and a mild, high foam alkylpolyglucoside. The sulfosuccinate portion is normally supplied as a semisolid paste and because of this, the blend is especially useful for formulators incorporating this potentially tricky to dispense product or those interested in reducing the carbon footprint of their manufacturing by designing cold-mix formulations.
Wastar Pink Berry by IFF–Lucas Meyer Cosmetics: Wastar Pink Berry was designed as an upcycled botanical extract rich in bioflavonoids to soothe irritated scalps. By valorizing pink berry by-products left after the extraction of IFF fragrance compounds, Wastar Pink Berry answers the upcycling trend as it combines sustainable sourcing in Madagascar and strong efficacy while limiting its manufacturing impact on the environment.
Other ingredients shortlisted in the Active category include:
Adenosilane by Exsymol

Aquaboost Natco by Expressions Parfumées

Iselight by Chemyunion

Patchoul'up by Givaudan Active Beauty

Restart PRO by Chemyunion

Solastemis by Gattefossé

SymHair Thermo by Symrise AG

Telessence Breeztel by LipoTrue

Telophi biotech ingredient by Lubrizol

Vitamin B12 cryst by DSM Nutritional Products Europe
Functional Ingredient Award Shortlist
Shortlisted in the functional ingredient category are:
DeeperCaps by Tagra Biotechnologies: DeeperCaps are encapsulated pigments dedicated to dark skin tones. Thanks to the double-layer microcapsule structure, when the capsules are broken, the pigments are released and adhere effortlessly to the skin to give great coverage with a natural perfect color-match but without white residue. The cellulose-based polymer shells are flexible, durable and break only with mechanical application.
EstoGel Green by PolymerExpert: EstoGel Green is an oil gelling agent of 100% natural origin and COSMOS-approved. It is a rheology modifier with suspensive and rheofludifying properties that enables the creation of nonbrittle, transparent and sprayable gels with a pleasant sensory touch.
Hydrolite 7 green by Symrise: Hydrolite 7 green leads a generation of green multifunctional ingredients. The seven-carbon alkanediol comes from 100% bio-based sources, derived from sustainably sourced castor bean oil. The multifunctional ingredient is a clear, colorless active that is compatible with a variety of traditional or natural/green cosmetic formulations and appropriate for all skin types.
Micromica MK-100K-C by NAGASE Personal Care: Micromica MK-100K-C is a functional base powder developed from upcycling resources. It is produced with technology utilizing potassium fluorosilicate, a by-product of fertilizer, to enhance the properties and qualities of conventional base powders.
Natrathix bio cellulose by Ashland: Natrathix bio cellulose is a nature-derived, biodegradable rheology modifier with suspension capabilities that maintains the emulsion stability of skin and sun care formulations with a desirable skin feel. Developed through expertise in sustainably sourced cellulosics, natrathix bio cellulose enables the creation of more natural skin care creams, lotions and gels, including organic and inorganic sunscreen formulations.
PemPur START polymer By Lubrizol Life Science: PemuPur START is a natural-derived polymeric emulsifier providing high stabilization capabilities at low use levels while offering a fresh and quick-break sensory effect.
Permeacell by Cellicon Lab Inc.:

 PermeaCell is based on peptide platform biotechnology that enables the delivery of cargo to the dermis for topical-therapeutics. It aims to unlock the potential of topical therapeutics with a delivery effect.
Rublaleaf KCX-5000 by NAGASE Personal Care: Rublaleaf KCX-5000 is a natural, sustainable sensory enhancer designed to provide qualities and physical effects similar to traditional microplastic beads (MPBs). Rublaleaf KCX-5000 was developed with technology to form cellulose into spherical beads. Its three main characteristics and benefits include: smooth, silky skin feeling with spreadability; high naturalness (ISO16128: 100%); and biodegradable (> 70% from OECD 301F test).
 Also shortlisted in the Functional category are:
Dowsil 979 Emulsion by DOW

Reflecks MD Midnight by Sun Chemical

Sensocel+ by CFF GmbH & 

Co.KG

Tegosoft LO MB by Evonik Operations GmbH
Green Ingredient Award
The Green Ingredient award is given to an ingredient that makes a proven significant environmental or social difference in the area of sustainability. The nominated ingredients should have been launched over two years ago and have current applications in cosmetic products.
Related: Sustainable Beauty Returns to in-cosmetics Global
Shortlisted in the Green Ingredient category are:
Biopolymer Hydal PHA – polyhydroxybutyrate by Nafigate Corp.: Hydal PHA is an upcycling ingredient and biopolymer that is produced biotechnologically based on green chemistry and zero-waste manufacturing. The specific form of the biopolymer is P3HB. It is a functional ingredient that is biocompatible, non-toxic and fully biodegradable. It forms the basis for new formulations as a polymeric matrix.
Ethicskin by Provital: Ethicskin is a multifunctional active developed and produced around an internationally recognized eco-ethical initiative in Querétaro, Mexico. It represents a step forward toward a fair world and a sustainable future and provides an inclusive pathway to skin homeostasis and preventive aging.
Melanogray by Mibelle Biochemistry: MelanoGray is an anti-hair greying essence that is sustainably obtained by upcycling the peel paste from unique organic Chios mandarins. Thanks to its melanin stimulating and antioxidant activity, it markedly reduces the quantity of grey hair in both men and women.
Phytocollagen by Lipoid Kosmetik AG:

 PhytoCollagen is an all-natural, COSMOS-certified, plant-based alternative to animal collagen with similar cosmetic benefits. The powerful anti-aging and moisturizing properties in combination with the vegan and sustainable source make it the perfect collagen alternative for the modern, conscious cosmetic consumer.
 

Pyr'O by Biolie: Pyr'O is an organic pear extract to replace water in cosmetic formulations.
Also shortlisted in the Green category are:
Rising Star Award
Finally, the Rising Star Award is given to a first- or second-year in-cosmetics exhibitor. The company must show its range of offerings, innovation and commodity, and how solutions-orientated the product range is.
Companies shortlisted for the Rising Star award include:
Cellicon Lab Inc.: Cellicon Lab is a bio-venture company specializing in dermal delivery technology of topical therapeutics.
EverCare: EverCare is focused on the innovation, supply and service for the Zano and Xperse zinc oxide product lines. With three different grades of zinc oxide powders exhibiting distinct tailored performance in UVB, UVA and transparency, there is a Zano grade to meet any specific performance need in sunscreen formulations.
Jinyoungbio Co., Ltd.: Jinyoungbio manufactures and supplies ceramide, dextrin-based, amino acid-based oil gelling agents, Cholesteryl Liquid Crystal, Lauroyl Lysine, etc. Jinyoungbio is a raw material company that values the environment and the future.
Microphyt:

 Microphyt is a leading company in the production and marketing of microalgae-based natural active ingredients. With more than 10 years of expertise in the field, Microphyt leverages microalgae's previously untapped diversity to provide unique solutions for nutrition and wellness.
Nafigate 

Corp.: Nafigate specializes in white biotechnologies for upcycling after the use of natural resources and other bioprocesses. The company upcycles used natural oils, waste from beer brewing/BSG, coffee grounds/SCG and other circular resources and introduces new ways to decarbonize cosmetics.
Oriel Marine Magnesium Extracts:

 Oriel uses patented technology to harvest a rare form of magnesium, minerals and trace elements directly from deep seawater. Six years of independent clinical research has proven synergistic impacts such as improving the efficacy of both hyaluronic acid while up-regulating its activity; and of multiple collagen gene biomarkers while simultaneously improving skin barrier, hydration, scarring and inflammatory impacts.
Scentmate by Firmenich:

 Scentmate is an AI-powered platform that can turn a creative idea into a winning fragrance in just a few clicks. Based on exclusive consumer insights and perfumery know-how, Scentmate offers its customers access to top expertise and resources and speeds up the process of bringing a product to market.
Sumitomo Pharma Food & Chemical:

 Sumitomo Pharma Food & Chemical Co., Ltd. (formerly DSP Gokyo Food & Chemical Co., Ltd.) both manufactures and supplies a wide range of ingredients that are essential to daily life. From Japan, the company provides high-quality and unique original polysaccharides suitable for cosmetic and personal care products.
Tagra Biotechnologies: Tagra is a producer of microencapsulated active compounds, UV filters and pigments. The company's technology supports stable, effective and exciting formulations for cosmetic use while its innovative microencapsulation technology enables customers to easily develop innovative formulations and products.
Uute Scientific Oy:

 Uute Scientific Oy adds a scientifically proven inactivated microbe extract to cosmetic products from natural soil- and plant-based materials. It mimics the rich biodiversity found in forests, in a safe and regulated form.
Commenting on the 2022 Innovation Zone Awards shortlist, one of the judges, Luis Allo, director for external innovation at Johnson & Johnson, said: "As a judging panel, we were seriously impressed by the level of innovation put forward for these awards. The depth of research, quality of thinking and the brilliant science that has gone into these ingredients is truly wonderful and we were genuinely excited about the future of the industry during the judging process. We are very much looking forward to seeing what the future holds for these ingredients."