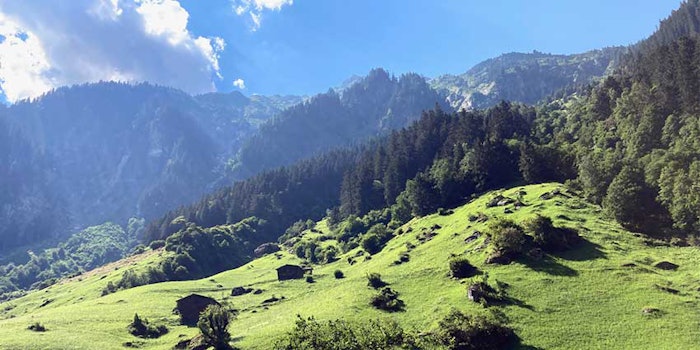 Premium Organic
Premium Organic has launched Alpin Heilmoor Extract (AHE) (INCI: Peat Extract), a 100% natural patented bioactive ingredient to address sensitive skin concerns. This active is reportedly an alternative to charcoal, clay and iron oxide.
Related: Cosmetics & Toiletries Soothing Skin Formulary
AHE is extracted from Heilmoor, a type of therapeutic mud that is typically used for its thermophysical properties and in therapeutic baths or packs for rheumatism, joint pain, etc. The company has transformed this raw material into a dark micronized powder form for dermocosmetics.
According to the company, in vitro and in vivo studies demonstrate AHE to nourish, protect and heal sensitive and problematic skin such as acne. The active was shown to enhance skin barrier integrity by inducing the expression of cytokeratin 10 for a positive effect on wound healing. Also, by promoting the wound healing factors E-cadherin and paxillin, and by suppressing pro-inflammatory cytokines (TNFα, IL-1β, IL-6, IL-8), the ingredient can reduce inflammatory skin conditions and premature aging.
The ingredient also reportedly: preserves the skin microbiome, improves the skin barrier function, inhibits oxidative stress factors, reduces glycation factors, shows soothing effects, promotes wound healing, and shows anti-acne and anti-aging effects such as improved elasticity, hydration, eye contour area, etc.
Premium Organic notes other advantages of AHE include:
Purity: AHE is free of water, pesticides and microbiological contamination, containing therapeutic mud in its purest form reduced to effective and potent components.
Fineness: Due to the manufacturing process, a dark micronized powder is produced.
Application: AHE is easy to formulate and versatile in applications such as leave-on and rinse-off products.
Natural: As previously stated, the ingredient is a 100% natural active ingredient, which combines tradition with sustainability through a renaturalizing decomposition. It is also COSMOS-, Ecocert-, Natrue- and vegan-certified.
Previously: Arthrofactins, Kiwi Peel and Clay: Moisturization in the Literature