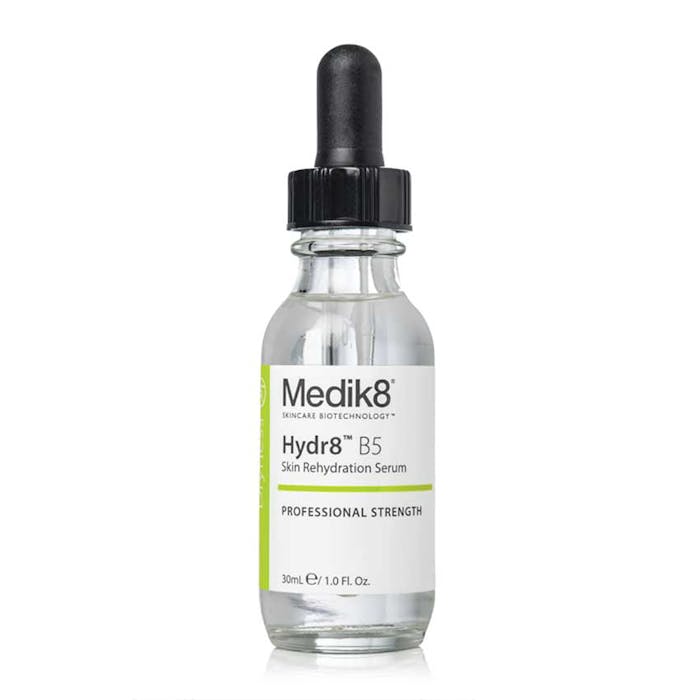 Medik8
Medik8's Hydr8 B5 Serum is touted as a lightweight, oil-free and easily absorbed gel-serum. Its clear and viscous texture is designed to quickly and effectively deliver hydration and relief to the skin, restoring moisture balance in all skin types. The product claims to produce rapid and significant improvements in skin condition and feel.
Additional claims include:
Powerful hydration that feels silky smooth on the skin;
Renewal of skin's natural hydro-balance for improved skin texture, suppleness and luminosity; and
Instant long-lasting hydration, thanks to excellent water-retaining properties.
The serum is recommended for use day and/or night, with or without additional moisturizers, to soften and smooth the skin for optimal renewal and protection. For stressed and irritated skin, the product's anti-inflammatory properties also provide soothing and healing effects.
This column will review the ingredient listing for claims substantiation and functionality.
Pantothenic Power
In this water-based formula, the main ingredients are derivatives of pantothenic acid (panthenol and calcium pantothenate) and sodium hyaluronate. Panthenol is a provitamin of B5, an alcohol analog of pantothenic acid (vitamin B5). Research has shown that panthenol,1 in different concentrations, benefits skin irritated by harsh surfactants.
Specifically, it facilitated a significant and rapid improvement in skin barrier function, in comparison with a control and a vehicle. Therefore, panthenol in concentrations above 1.0% in any formula may have a protective effect on the skin barrier function. Another study2 reported a panthenol-based formula to have a favorable and lasting effect on barrier function, repair and skin hydration without negatively affecting bacterial flora.
Calcium pantothenate, a salt of pantothenic acid (vitamin B5), shows efficacy in wound healing.3 Further, in vitro studies suggest it positively influences the migration and proliferation of fibroblasts.4
Hyaluronic Connections
Sodium hyaluronate, the sodium salt of hyaluronic acid, is also incorporated in the product. This naturally occurring polysaccharide of the connective tissues has excellent water-holding properties, and serves as a humectant and skin conditioning agent.
Additional Ingredients
The serum product is preserved by phenoxyethanol, ethylhexylglycerin and citric acid, which also serves as a buffer.
Conclusions
In my view, the ingredients in this formula support hydrating, smoothing and barrier protection functions. The consequences of increased hydration—i.e., improved skin texture, suppleness and luminosity—are therefore also likely. Quantification of the onset/duration of the long-lasting clinical effect would also be beneficial, particularly in dry and dehydrated skin.
Ingredients: Water (aqua), Pantothenic Acid (Vitamin B5), Sodium Hyaluronate (Hyaluronic Acid), Phenoxyethanol, Ethylhexylglycerin, Citric Acid 
References