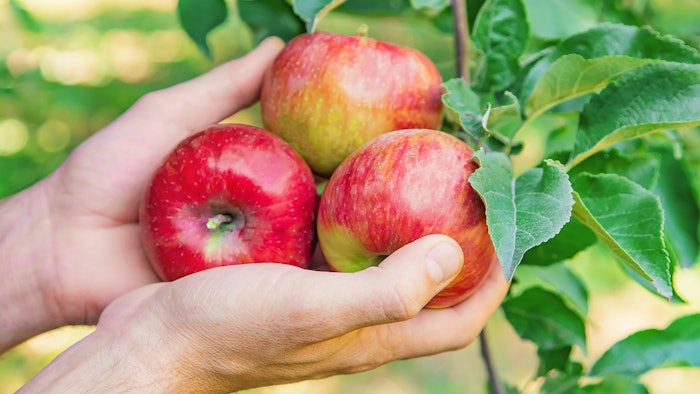 At in-cos Global 2023 in Barcelona, Herbarom will be showcasing its solid line and apple beauty concepts made with over 80% natural, plant-based ingredients. The company utilizes two key ingredients – distilled apple grains and plant oil extracted from the seeds of organic apples sourced from a Normandy-based cider brewery.
Apples offer properties which can be beneficial to the skin, including antioxidizing effects, flushing out toxins, replenishing minerals and accelerating tissue regeneration. Apples also contain polyphenols and vitamin C, vital for healthy skin, according to Herbarom.
Related: Mushroom-Based Skin Care Brand Neon Hippie Launches in US
The solid line is a range of cosmetics that reduces the amount of water used in the formulation process, while also cutting down on waste, according to Herbarom. The range includes a shampoo, makeup remover, deodorant and multi-purpose soap and is comprised of ingredients locally sourced and grown in France.
The apple line focuses on upcycling apples through a partnership with French laboratory JRS, which distils apples in a range of organic formulas. The line contains a hair mask, hand cream, moisturizing cream and hydrating mist.