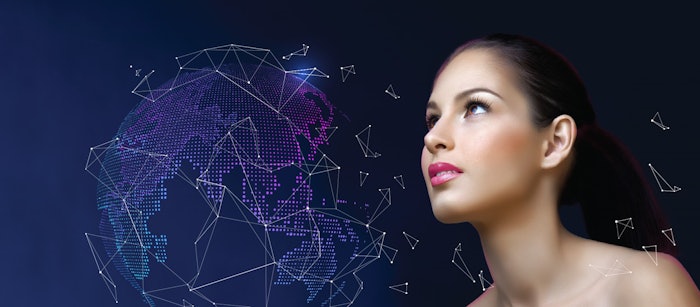 Image source: IMCD US, LLC
IMCD US, LLC, part of IMCD Group, has unveiled 10 market-ready prototypes as part of its Biotech Beauty 2.0 collection.
Recently: IMCD Unveils 6 NeoTech Beauty Concepts
Less than six months since IMCD US introduced Biotech Beauty last year, the team further developed the collection that explores its four pillars of biomimetics, artificial intelligence (AI), hybridization and sustainable solutions.
The IMCD Biotech Beauty 2.0 collection displayed at the recent NYSCC Suppliers' Day includes:
Men's Facial Care Kit
BioBalance Shaving Cube: Self-emulsifying base that turns into a creamy/foamy shaving product when mixed with water.
Instant Chill Soothing Gel: Portable, single-use aftershave with anti-inflammatory benefits and skin barrier protection.
Soothing and Smoothing Face and Beard SLD: A multiuse product delivering well-aging benefits.
Dissolvable Makeup Kit
These water-free, talc-free pectin formulations offer 24 hr hydration that also protects collagen and moisturizes skin with four products.
Lychee Glow Skin Tint
Ageless Concealer
Crystal Confetti Highlighter
Eye Love Dissolvable Shadow in Midnight Blue and Dark Sable 
Other featured products
Crushing It Exfoliating Facial Cleanser: A portable water-free tablet that turns into a creamy cleanser when water is added.
Melt Away Pectin Cleanser: Pectin film that dissolves into a foaming cleanser.
Oligo-Firming Mask-to-Foam Cleanser: Deep pore cleansing mask for skin hydration and anti-pollution benefits.
SoftFeel Cherry Lip Shine (reintroduced): Made with natural butters and oils with a textured balm and smooth application
Soothing Serum Solid (reintroduced): Multiuse, water-free serum bar.
Gender Neutral Hair and Body Cleanser Tablet (reintroduced): Dissolvable packaging and label, multipurpose, high-foaming cleanser.
Previously: 'Conscious Beauty' Concepts with IMCD US
"IMCD's Biotech Beauty 2.0 collection displays our team's commitment to helping industry innovators discover how to harness technology to shape a new sustainable Beauty," said Danielle Wheeler, Americas technical director at IMCD. "The 10 new concepts we are introducing during our live demos feature sustainable, futuristic formulations that reinforce the breadth of IMCD's product and application expertise. These market-ready concepts help kickstart our customers' innovation process so that together, we are shaping tomorrow's beauty."