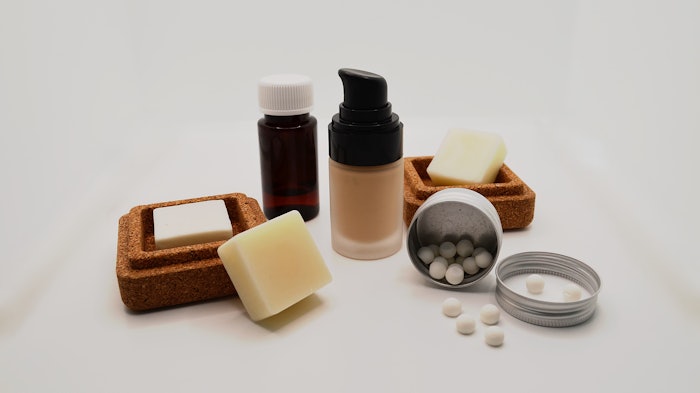 Image source: IMCD Beauty & Personal Care
IMCD Beauty & Personal Care, part of IMCD Group, is showcasing six market-ready prototypes in its NeoTech Beauty collection at in-cosmetics Global 2022.
Previously: IMCD Debuts 5 Biotech Beauty Concepts at NYSCC
These prototypes have been designed for six market segments with a selection of ingredients based on the three NeoTech Beauty ingredient pillars: Bio-Tech, X-Tech and Smart-Tech.
The IMCD NeoTech Beauty prototypes include:
Solid Youth Serum for Face Care: How to turn an anti-aging milky serum into a solid?
Solid Regen Balm for Body Care: How to efficiently nourish your dry body skin without a feeling of richness?
Color Corrector Cream for Color Cosmetics: How to get an inside-out skin tone correction in a fluid tinted cream?
Hydra SunPearls for Sun Care: How to make solid moisturizing pearls to protect your hands from the sun?
Healthy Scalp Shampoo for Hair Care: How to get both conditioning and foaming in a sulfate-free shampoo?
Solid Makeup Remover for Toiletries: How to transform a solid balm into cleansing milk? 
Anne-Sophie Gardes, EMEA technical director at IMCD Beauty & Personal Care, said: "NeoTech Beauty is an answer to two major global consumer trends that our IMCD team has analyzed: Sustainability, and technology and science. With the right selection from our partners' ingredients, combined with our state-of-the-art formulation expertise, we demonstrate how advanced high-tech science and innovation are essential to support the movement for clean and sustainable beauty."