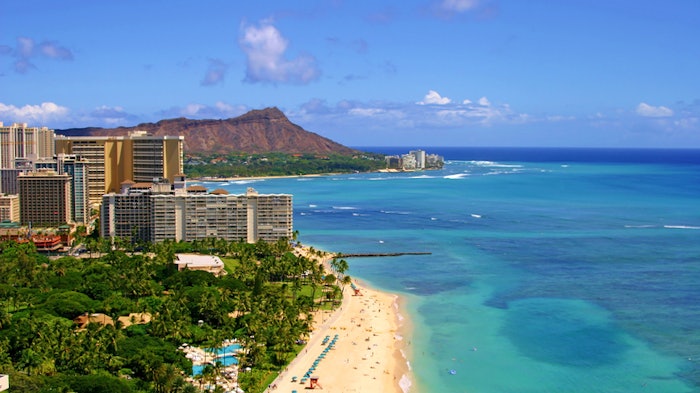 Reef safe is a term often used to describe sunscreens developed with ingredients that do not harm coral reefs or marine life. This responds to the ban of certain sunscreen ingredients in Hawaii, the U.S. Virgin Islands and other regions due to their alleged negative impact on the environment. 
For example, in attempt to protect the coral reefs of Maui County, the state of Hawaii has chosen to only allow the sale and distribution of non-nanotized zinc oxide and titanium dioxide sunscreen as of Oct. 1, 2022. This follows the 2021 ban of octinoxate and oxybenzone, which were thought to be toxic to fish and coral reefs.
The County of Maui states, "reefs are not only extremely important habitats, but they are also fundamental to the marine economy. Coral reefs also provide us with places for recreation and longstanding Hawaiian cultural practices. Reefs buffer us against waves, storms and floods, which helps prevent property damage, erosion and loss of life."2 
According to Consumer Reports, the reef-safe movement is powered by concerned consumers but has yet to be backed by science. A report from the National Academic of Sciences, Engineering and Medicine notes the challenges of determining the effects of UV filters in sunscreens on freshwater, oceans, plants, animals and microorganisms. This report pushes the Environmental Product Agency (EPA) to perform an urgent ecological risk assessment of UV filters.
Studies cited by supporters of the reef-safe movement include one from 2014 in which titanium dioxide in water was found to produce hydrogen peroxide, a chemical that can be harmful to marine organisms.3 Additionally, a 2021 paper published in the journal Environmental Toxicology and Chemistry analyzed data from 12 studies of sunscreen ingredients and their effects on coral. The researchers concluded that while there is ample proof that UV filters are found in ocean waters, there is limited evidence that their presence is causing significant harm to coral reefs.4
Due to the rapid rate at which the reef-safe movement is accelerating, a formal examination to address the gaps in knowledge is vital to ensure not only consumer safety but environmental safety as well. This will also assist with defining the reef safe term to establish a regulatory standard; as of now, it generally has been defined as sunscreens that do not contain oxybenzone or octinoxate.1 Consumers are also looking to brands and manufactures to properly define the term reef safe.
Despite the controversy of whether certain UV filters cause harm to the coral reefs and marine life, there is demand to create sunscreens that abide by the bans put into place by Hawaii, the U.S. Virgin Islands and Maui County, among others. As such, this article will focus on the development of mineral-based sunscreens since these abide by current bans as of now.
 Thickeners/Stabilizers
Stability can be one of the more challenging aspects of creating a mineral sunscreen. Using a water gelling agent to help suspend the micelles in o/w emulsions can enhance stability results. There are a variety of options, from natural to synthetic. Some synthetic options would include ammonium acryloyldimethyltaurate/VP copolymer, ammonium acryloyldimethyltaurate/beheneth-25 methacrylate crosspolymer and sodium acryloyldimethyltaurate/VP crosspolymer. Some natural options include xanthan gum, agar, cellulose gum and Acacia senegal gum.
Each of these gelling agents is texturally unique and it is important to evaluate them individually to optimize for the desired texture and feel of the formula. In some cases, combining water gelling agents may be the secret to creating a distinctive texture.
 Emulsifiers
There are two major types of emulsions a formulator might create as the basis for mineral sunscreens. W/O emulsions are known to be more stable and are able to hold a larger percentage of mineral UV filters due to their oil outer phase. These can have a bit more drag during initial application but their viscosities can be optimized for good aesthetics; a higher viscosity imparts higher drag and vice versa. Some examples of w/o emulsifiers include polyglyceryl-4 olivate/polyricinoleate, polyglyceryl-2 oleate and polyglyceryl-2 stearate.
Previously—Formulating on Trend: Keratosis Pilaris Body Wash
The second type of emulsion is o/w. Although typically more difficult to stabilize, when it comes to mineral sunscreen UV filters, these can be more aesthetically pleasing for the user. This is because the water phase is in the outermost portion of the formula, which can provide a more pleasant break on the skin—especially if a water-gelling agent is used. Example o/w emulsifiers include glyceryl behenate, behenyl alcohol, lecithin, cetearyl alcohol, cetyl palmitate, sorbitan palmitate and sorbitan oleate.
 Oil Phase
While water-gelling agents contribute to the initial feel of the product, the oil phase can be composed of emollients and occlusives to contribute to a formula's after feel and finish.
Emollients help to soften and smooth the skin by filling voids between corneocytes. This, in turn, helps to protect skin from external factors. Examples of emollients include mineral oils, plant oils, vegetable oils and silicones.
Occlusive agents function by forming a hydrophobic barrier to physically block and prevent transepidermal water loss. This reinforces the skin barrier. Examples of occlusives include petrolatum and diisostearyl malate.
Optimizing the ratio of emollients and occlusives allows the formulator to optimize the finish of a formula. The use of lightweight volatile emollients can give the formula a more natural finish, while using more emollients and occlusives that are non-volatile can impart a glowing, dewy-looking after-finish and feel.
 UV Filters
In the case of a reef-safe sunscreen, inorganic SPF filters are the only option and there are only two: zinc oxide and titanium dioxide. Both ingredients can be used in their powdered form, or for ease of formulation, they may be purchased pre-dispersed in certain emollients and carriers. The version used is at the discretion of the formulator; however, both versions can be added directly to the oil phase and heated the same as any other oil phase ingredient.
 Photostabilizers
Photostabilizers are typically organic compounds that help to stabilize the UV filter's molecular structure and reduce degradation. Often simple additions to the oil phase, photostablizers are vital in assuring that a sunscreen remains high performing. Some examples include ethylhexyl methoxycrylene, butyloctyl salicylate, polyester-7, neopentyl glycol diheptanoateand and polyester-25.
 Preservatives
Preservatives are essential in any formulation to help ensure the prevention of yeast, mold and bacteria growth. These microorganisms can grow in the presence of water and the introduction of external factors such as oxygen, light and heat. Mineral sunscreens are often formulated at a pH of around 7-8 since this is the range where inorganic filters are the most stable. It is important to select a preservative or preservative blend that is effective in the same pH range. Some options include pentylene glycol, caprylyl glycol, ethylhexylglycerin and phenoxyethenol.
 Conclusion
Regardless of formulating for the reef safe claim, mineral sunscreens can pose challenges especially in terms of stability. Using water-gelling agents and photostabilizers can help. The oil phase combined with water-gelling agents can contribute to the aesthetics of the final formulation and achieve a variety of finishes. Optimizing ingredient types will help the formulator achieve the desired texture, after feel and SPF.

References
1. https://www.consumerreports.org/sunscreen/the-truth-about-reef-safe-sunscreen-a3578637894/
2. https://www.mauicounty.gov/2483/Mineral-Only-Sunscreen-Maui-County
3. https://pubmed.ncbi.nlm.nih.gov/25069004/#:~:text=Our%20results%20indicate%20that%20the,affecting%20the%20growt
4. https://setac.onlinelibrary.wiley.com/doi/full/10.1002/etc.4948