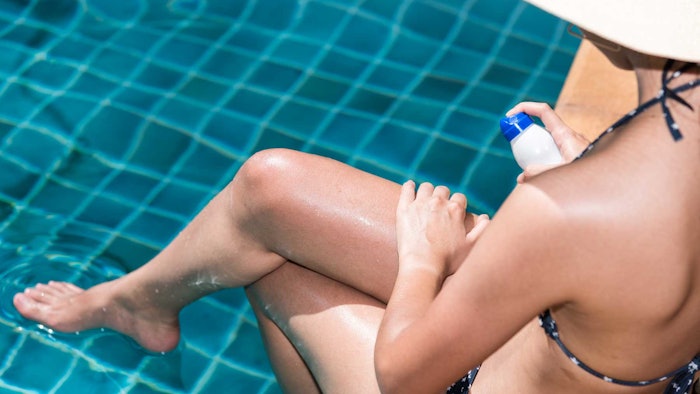 According to a Sept. 7, 2022, report by Top Class Actions, Bayer Healthcare, former owner of Coppertone sunscreen, and Beiersdorf, the current owner, will pay out $2.3 million to settle a class action suit against the brand for misleading the public in terms of the product's safety, when in fact it contained benzene. 
See archived: Bayer, Beiersdorf to Settle Over 'Misleading Mineral-based' Coppertone Claim
The suit alleges the Coppertone brand misled consumers, "by labeling, touting and marketing its products as being healthy, safe, pure and simple while knowing ... (and not disclosing) ... that the products contain benzene (or ... the risk of containing benzene)," the source stated.
2021 Coppertone Recall
As previously described, Coppertone issued a voluntary recall in 2021 of specific lots of five sunscreen products due to the presence of benzene. The U.S. Food and Drug Administration (FDA) sent out a public notification of the products being recalled, which included:
Pure & Simple SPF 50 Spray (2021 launch),
Pure & Simple Baby SPF 50 Spray,
Pure & Simple Kids SPF 50 Spray,
Sport Mineral SPF 50 Spray (2021 launch), and
Travel-Size Coppertone Sport Spray SPF 50 (1.6 oz) aerosol sunscreen sprays.
The products were manufactured between the dates of Jan. 10, 2021, and June 15, 2021.
As the U.S. Food and Drug Administration (FDA) explained, benzene is classified as a human carcinogen and, "exposure to it can occur through inhalation, oral and skin and it could, depending on the level and extent of exposure, result in an increased risk of cancers including leukemia, and blood cancer of the bone marrow and other blood disorders which can be life-threatening." 
In the public notification, however, the agency added, "Daily exposure to benzene at the levels detected in these affected Coppertone aerosol sunscreen spray products would not be expected to cause adverse health consequences based on generally accepted exposure modeling by numerous regulatory agencies..."
2022 False Ad Suit and Settlement
The class action settlement was extended to Coppertone spray products manufactured before Aug. 2, 2022, Top Class Actions reported, and to include the following additional products:
Sport SPF 30,

Sport SPF 15,

Complete SPF 50,

Complete SPF 30,

Glow Shimmer SPF 50 and

Glow Shimmer SPF 30.

Kids SPF 50
Bayer and Beiersdorf have admitted no wrongdoing, the source notes.