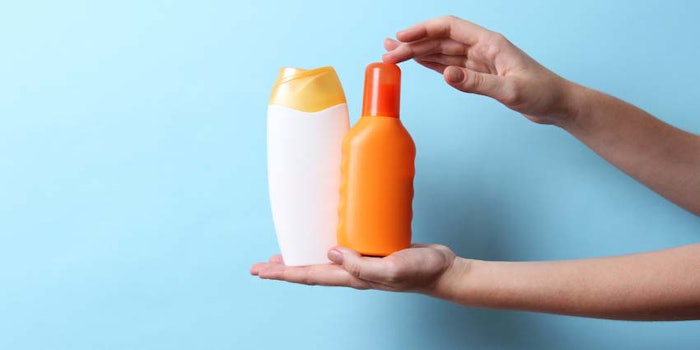 A class action lawsuit pending in the U.S. District Court for the Northern District of California alleges that Bayer HealthCare, LLC, and Beiersdorf, Inc., deceptively labeled Coppertone brand sunscreen products as "mineral-based," despite their containing chemical actives.
As the case text clarifies, in September 2019, Bayer's parent company sold the Coppertone brand, including the Coppertone sunscreen lotions, to Beiersdorf's parent company. Beiersdorf, in turn, now owns, manufactures and distributes the Coppertone products, and also created or authorized the labeling for the products.
See related: Key West Joins Hawaii in the Ban of Octinoxate and Oxybenzone
In 2017, plaintiffs Steven Prescott and Mike Xavier, residents of California, purchased various Coppertone sunscreen lotions because the products' labels and advertising claimed the lotions were "mineral based." The products in question included Coppertone brands Water Babies Pure & Simple, Kids Tear Free and Sport Face.
While promoting their mineral-based sunscreen protection, the lotions allegedly contained more chemical active ingredients than mineral active ingredients. For Water Babies Mineral-based Sunscreen Stick products, the ingredient disclosure listed chemical actives at 17.5% and mineral actives at 15%; for Sport Face Mineral-based Sunscreen Lotion products, chemical actives were disclosed at 12% and mineral actives at 9.7%. Had the plaintiffs known the lotions contained chemical actives, they reportedly would not have purchased them.
"To obtain an unfair competitive advantage in the billion-dollar sunscreen market, [the] defendants are exposing babies and children to harmful chemical-based ingredients hidden in their sunscreens by fraudulently passing them off as safe mineral-based ingredients," the plaintiffs stated in the original court document. The products were cited to contain, in varying combinations, octinoxate (banned in Hawaii), octocrylene and octisalate, in addition to zinc oxide.
According to the Digital Settlement Group, in Prescott v. Bayer HealthCare, LLC, case no. 5:20-cv-00102, the court did not rule in favor of the plaintiffs or the defendants. Rather, the parties agreed to settle. The defendants deny any wrongdoing and contend that the products have always been truthfully marketed and labeled.