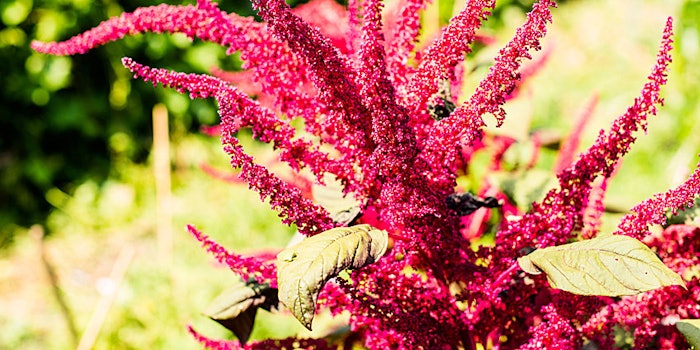 Praan Naturals
Praan Naturals has introduced Organic Virgin Amaranth Oil (INCI: Amaranthus Hypochondriacus (Amaranth) Seed Oil) to its range of more than 500 certified organic and conventional natural ingredients for personal care product development.
Related: Praan Naturals Launches Rosewood Essential Oil
Praan Naturals' Organic Virgin Amaranth Oil is comprised primarily of linoleic acid, a beneficial polyunsaturated essential fatty acid. It also is a source of squalene and vitamin E (tocopherols and tocotrienols).
The oil is described as a versatile lipid that helps to maintain radiant skin and healthy, shiny hair. It reportedly is well-suited for an array of personal care applications, including formulations intended to soothe problem, damaged, maturing or sensitive skin. It also is said to support normal skin elasticity and to help minimize the appearance of wrinkles and fine lines.
Within hair care applications, Organic Virgin Amaranth Oil can condition and protect the hair and scalp. Other applications include aromatherapy, nail care and color cosmetics. 
"Amaranth has a fascinating history–the seeds and leaves have been used since ancient times for culinary, medicinal and topical applications," said Anáil Moon Devī, chief executive officer of Praan Naturals. "We're grateful to be able to offer this impressive ingredient from a conscientious supplier who strives to maintain sustainable farming practices."