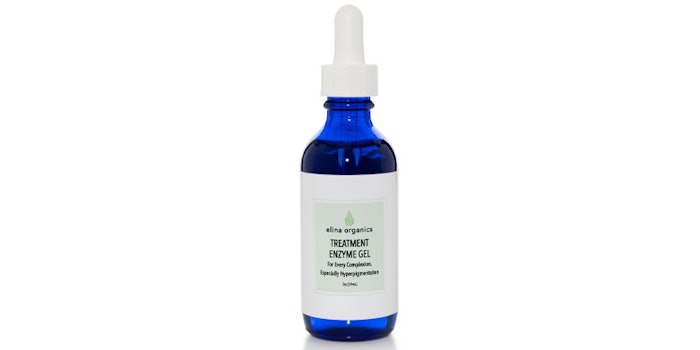 Elina Organics has recently launched Treatment Enzyme Gel, a product that targets hyperpigmentation and sun damage.
Featured: Formulating on Trend: Hyperpigmentation Treatment Serum
The gel is a fruit-based alternative to retinol that contains highly concentrated whole fruit extracts to naturally hydrate, brighten and firm skin, the company reports.
The treatment is also said to gently exfoliate and improve skin texture, and to help erase discolored pigment spots on the face and body. The gel is described as especially beneficial for dry, aging and dull complexions.
Key ingredients include:
Pomegranate: A natural source of succinic acid, tartaric acid and other alpha-hydroxy acids AHAs, which have powerful antioxidant effects to firm skin and minimize signs of aging by reducing toxins and free radicals. Additionally, pomegranate is reported to lighten scars and hyperpigmentation; it also contains natural antimicrobials from vitamin C.
Coconut extract with probiotics: This ingredient contains "friendly" bacteria that hydrate and brighten skin, sooth dryness and irritation, reduce acne, and minimize the appearance of wrinkles.
The company notes this treatment is not recommended for sensitive complexions or those with advanced rosacea.
Ingredients: Water (Aqua), Vegetable Glycerin, Passiflora Incarnata Fruit (Purple Passionflower) Extract, Actinidia Chinesis (Kiki) Fruit Extract, Garcinia Mangostana (Mangosteen) Extract, Ananas Sativus (Pineapple) Fruit Extract, Punica Granatum (Pomegranate) Extract, Lactobacillus Coco Nucifera (Coconut) Fruit Extract.