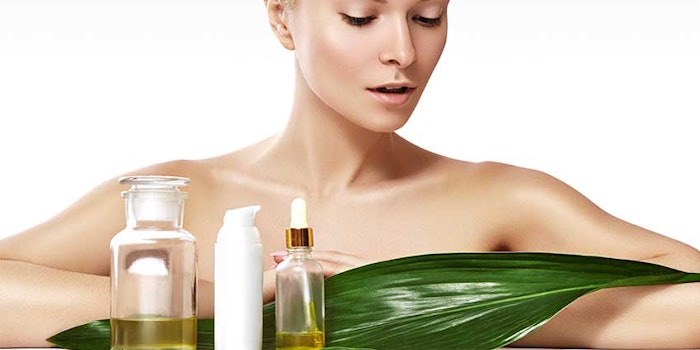 Vantage will appear at in-cosmetics Global 2020 to introduce its Clear Beauty concept that includes "clean" and sustainable ingredients with minimal impact on the environment.
Vantage will launch a range of natural oils for formulators seeking sustainable ingredients that meet the consumer need to be environmentally friendly. The range will comprise Textron Origin Argan Organic Oil (INCI: Argania spinosa (Argan) oil) for treating damaged skin and regenerating aged skin; Textron Origin Rosehip Oil (INCI: Rosa canina (Rosehip) Fruit Oil) for moisture retention, protecting the skin of UV rays; and Textron Origin Jojoba Organic Oil (INCI: Simmondsia chinensis (Jojoba) Seed Oil) for moisturization without promoting acne or other skin problems.  
Related: Cacti Farm Cultivates Organic Oils for Skin
Another product to be launched is the Bio-Signal Lipid 10 for sensitive skin and formulations with skin benefits. This product is a skin-mimetic technology comprising phosphatidylglycerol, a naturally occurring phospholipid. In vitro studies showed phosphatidylglycerol stimulated the expression of several epidermal proteins known to strengthen the skin barrier, hydrate the skin and reduce inflamed signaling pathways. In clinical studies, this ingredient not only demonstrated benefits for skin moisturization, tightening and radiance but was also found to work synergistically with irritating actives (AHAs, retinol) to decrease irritation potential in sensitive skin.
Vantage will introduce two encapsulants to create visual effects for cosmetic and personal care ranges to build an emotional connection with consumers
Lipobead Leaf Green with CBD Isolate (INCI: Mannitol (and) Cellulose (and) Hydroxypropyl Methylcellulose (and) Cannabidiol (and) Simmondsia Chinensis (Jojoba) Seed Oil (and) Iron Oxides/CI 77492 (and) Ultramarines/CI 77007) contains CBD isolate with 0% THC.
Lipobead Detox with Coconut Charcoal (INCI:

Mannitol (and) Cellulose (and) 

Charcoal

 Powder (and) Hydroxypropyl Methylcellulose (and) Caprylic/Capric Triglyceride

) are black encapsulants containing a sustainable, coconut-derived activated charcoal for skin cleansing and skin detox. The coconut charcoal is produced using technology aimed at decreasing the carbon footprint of the process, a key factor for formulators who take account of the environmental impact of cosmetic products.
See Related: 5 Applications for Umang Pharma's Activated Charcoal
The company will also feature Liponate Jojoba 20 (INCI: Not Provided), a soft emollient ester derived from jojoba oil, as well as sulfate-free formulations featuring the Metaupon range of Taurate surfactants.
For more information, visit the Vantage Specialty Chemicals website.