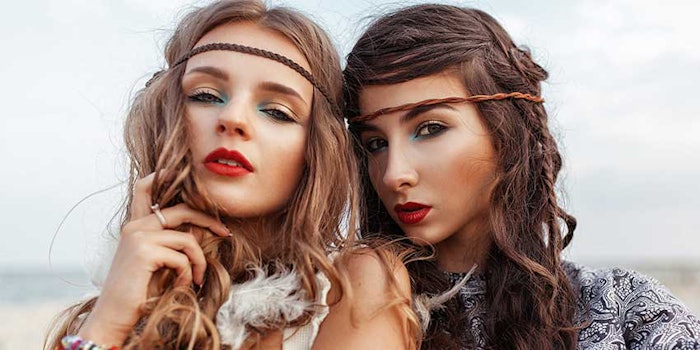 BASF Care Creations presented its 'Being Millennials' concepts and showcased a range of natural-based ingredients at CosmetAgora, held Jan. 14-15, 2020, in Paris.
According to Richard Fry with Pew Research Center, millennials will become the largest living generation by 2028, and represent three-fourths of the world's working population. This consumer segment has become a huge target, especially for the beauty industry, for which to market and create formulations.
Millennial Personas
For 'Being Millennials,' BASF identified three personas that typically characterize groups of this generation and have developed various formulas for each: the Natural Lover, the Digital Player and the Healthy Beauty Sponsor. As explained by the company, the Natural Lover stays in touch with nature and is deeply aware of the need for sustainability and responsible consumption.
The Digital Player satisfies their needs and wants with products endorsed by online friends or followers. Finally, the Healthy Beauty Sponsor looks for products and brands that specifically contain safe ingredients, use minimalist formulas and provide total transparency.
Eco-friendly Solutions
As consumers become increasingly aware of the origins and environmental impact of personal care products, manufacturers are adapting to this trend. "Ethical and sustainable sourcing, traceability, renewable-based feedstock and safe ingredients—  that's what consumers are paying attention to today," explained Valérie Pian-Parison, marketing manager at BASF Personal Care Europe. "'Back to Nature' has become one of the industry's most important drivers in the past year. To support this market transformation, BASF has taken several measures."
Examples include the company's decision to offer its portfolio of palm-based specialties exclusively as certified sustainable. This includes producing the first Rain Forest Alliance-certified coconut oil in the Philippines, and the creation of a sustainable supply chain for ingredients from the rambutan tree, which improves environmental and social standards.
"Millennials see the beauty sector as a way of celebrating diversity, and the choice of products can be an expression of one's emotional attachment and sense of responsibility for nature," added Marine Belthé, marketing manager at BASF Personal Care Europe. "With our broad portfolio and expertise, we support our customers in developing tailor-made solutions that meet the growing demands of consumers."
During the event, BASF presented ingredients for environmentally conscious consumers. For example, Texapon SFA (INCI: Disodium 2-Sulfolaurate) is a mild anionic surfactant, reportedly suitable for tear-free rinse-off formulations, shampoos and body wash products. It is said to provide creamy conditioning and to enable the deposition of cationic polymers. The ingredient is derived from renewable feedstock, biodegradable and certified to the RSPO Mass Balance supply chain model.
Dehyton SFA (INCI: Cocamidopropyl Betaine (and) Disodium 2-Sulfolaurate) is based on Texapon SFA and betaine. It is cold-processable, making it easier to formulate with, and is claimed to pose a very low risk for eye irritation.  It is also reportedly gentle on the skin and mucous membranes and can be used as a micellar thickening agent in formulas.
And, as an alternative to silicones, the company showcased Cetiol Ultimate (INCI: Undecane (and) Tridecane) and Cosmedia Gel CC (INCI: Dicaprylyl Carbonate (and) Stearalkonium Hectorite (and) Propylene Carbonate) as modified hectorite ingredients that help create to a powdery, waxy texture.
Massage Mask
Finally, during the Formulation Awards at the event, BAS presented its "Warming Massage Mask" formula, an anhydrous powdery balm that warms when massaged into the skin. Here, the Cosmedia Gel CC is combined with Cutina HR Powder (INCI: Hydrogenated Castor Oil), which helps to obtain formula consistency, while Lanette 22 (INCI: Behenyl Alcohol) and the emollient Cetiol SB 45 (INCI: Butyrospermum Parkii Butter) give the mask a balmy texture and provide a melting sensation on the skin.
For more information, contact BASF Corp.