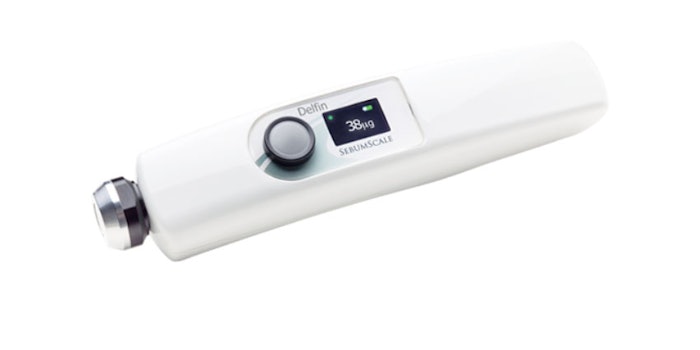 Delfin Technologies has designed a portable device to test skin sebum excretion, making oil control measurements an exact science for skin cleansing, anti-acne, etc., claims.
According to the company, skin sebum excretion measurements in absolute units are now possible for the first time thanks to the sensitive SebumScale. The device measures the amount of sebum accurately in micrograms and also can serve as a convenient tool for skin typing assessments and clinical trials.
The compact instrument applies microbalance technology for accurate and repeatable mass weighing. Its disposable sensors effectively cover an area of 1 cm². The sensor is briefly placed on the skin and in a few seconds, the mass of the sebum collected from the skin is measured within a 0.1-μg resolution.
The SebumScale can be used as a stand-alone device, or measurement data can be collected wirelessly via software. This software allows users to set up individual projects, store and view measurement data, and plot the results or export them to other programs.
For more information, visit the Delfin Technologies website.