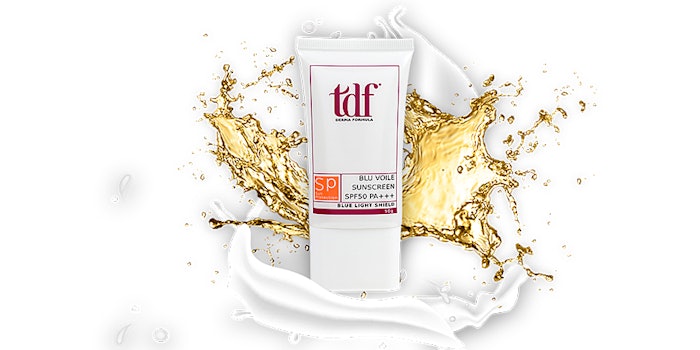 Image source: TDF Derma Formula
In a study published in the International Journal of Cosmetic Science, researchers assessed the protective effects of TDF Blu Voile Sunscreen, which the makers, TDF Derma Formula, formulated to protect the skin against not only sun damage, but blue light effects such as hyperpigmentation, melasma and brown spots.
Related: Green Method Using Blue Light Strengthens, Sets Hair
According to the abstract, the authors analyzed the skin-protecting efficacy of the product against the effects of blue light irradiation both in vivo and through the in situ quantitative and qualitative evaluation of protein carbonylation in human skin explants.
Skin explants treated with the test product showed significantly lower levels of accumulated carbonylated proteins, translating to an 82% reduction following exposure to blue light at 460 nm. In vivo studies also indicated the TDF Blu Voile Sunscreen provided significant efficacy against immediate and persistent pigmentation induced by blue light at 415 nm.
The authors concluded that TDF Blu Voile Sunscreen can protect against oxidative stress as well as the immediate and persistent pigmentation induced by blue light.
Key ingredients: Zinc Oxide, Titanium Dioxide, Glycerin, Ethylhexylglycerate, Cyclopentasiloxane, Sodium Hyaluronate, PEG 40, Tocopherol, Dipotassium Glycyrrhizate (full disclosure not provided).