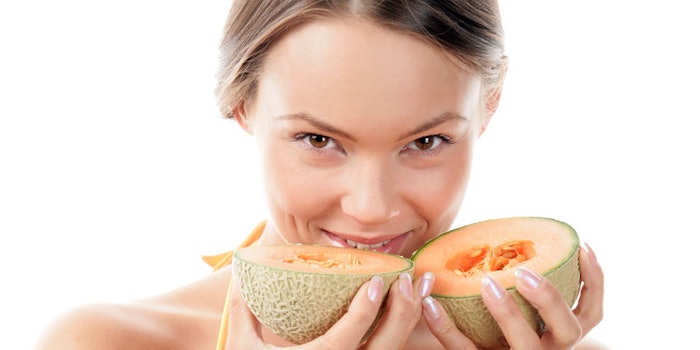 It seems like the perfect match: consumer demand for natural cosmetic ingredients, and a heaping food waste problem worldwide. Researchers in Portugal have married the two in a study uncovering the upcycling potential of melon seed and peel waste for functional foods. The chemical profiles of these materials suggest a new sustainable source for cosmetic and nutricosmetic ingredients.
As published in Trends in Food Science and Technology, the studied examined the phytochemical compounds in discarded melon (Cucumis melo L.) seeds and peel. According to the authors, such byproducts hold antioxidant, anti-inflammatory, antidiabetic, anti-ulcer, antibacterial and anti-angiogenic potential, thanks to their bioactive compounds.
The peel was found to be a good source of the minerals potassium, sodium, magnesium and calcium, in addition to phenolic compounds. It also contained carotenoids, i.e., lycopene and β-carotene, which have been shown in vitro and in vivo to support the body's skin health maintenance and photoprotection activities.
The oil from the seeds proved to be a good source of tocopherols and sterols, e.g., β-sitosterol, 0.06-289 mg/100 g oil, as well as phenolic compounds. It also had a fatty acid profile similar to soybean and sunflower oils. 
These authors note that further research is required to support the development of evidence-based functional foods. Cosmetic experts have previously agreed on this point, but they also feel there is emerging evidence of a strong connection between nutrition and beauty—most prominently displayed by the negative effects of lacking nutrition.
Whether applied topically or ingested, with the right finesse, these sources appear to comprise the right chemistry to upcycle for beauty benefits.