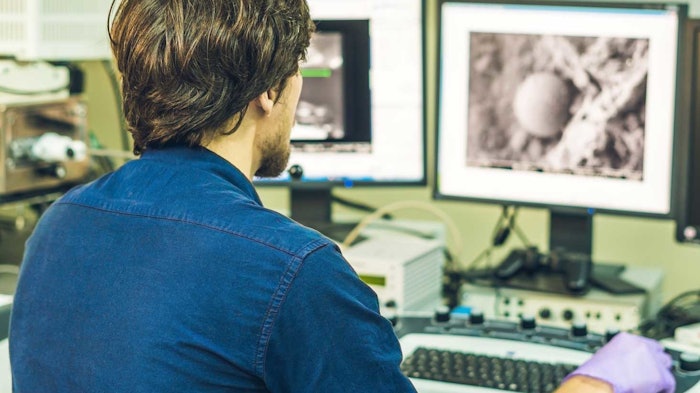 Research presented in a thesis paper at the University of Groningen describes a method to visualize electron microscopy results in color based on energy dispersive X-ray imaging.
See related: AI Meets Metabolic Diagnostics for Precision Skin Care at SCC National
According to the author, the ways in which the body's cells behave during health and disease can be shown through biomedical imaging using electron microscopy (EM). However, analysis of the gray-scale EM images is subjective, and further interpretation of uncertain features requires additional experiments that can take extra days to months.
Here, the author proposes an approach to gather more information from the initial EM image that is then evaluated with the gray-scale EM data as a false-color overlay. The approach, referred to as ColorEM, is based on energy dispersive X-ray (EDX) analysis, which detects elemental compositions through the interpretation of characteristic X-rays.
The experimental design of EDX and its data collection optimization are described in the thesis. Applications include barcoded nanoparticles imaged within cells to show how cells degrade and organize cargo, and the identification of human cell types and features. The author proposes ColorEM as the future for cellular feature identification at EM resolution.
See archived: Shiseido Uncovers Elasticity in Capillaries for Anti-aging Approach