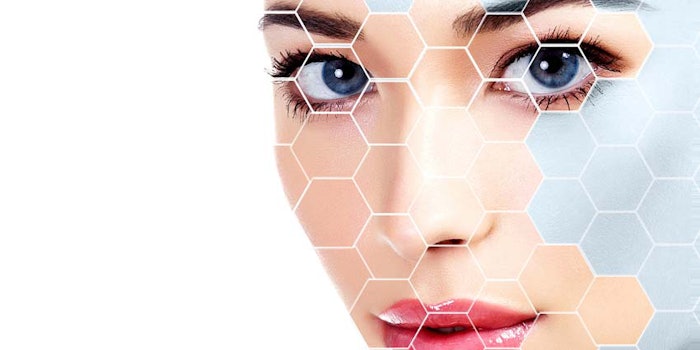 'Today, skin care is a trial-and-error approach for many consumers,' writes Liyuan Ji, formulation chemist at Compass Beauty. 'Our skin is the product of complex physiology happening below the surface but currently, there is no way for individuals to measure and understand their skin needs, link their individual needs to their optimal ingredients and formulation, or track and optimize their skin over time.'
She adds that most skin care products are developed and tested with a small population base that does not represent the diversity of skin or skin needs. It also does not consider skin's biological activities such as metabolism. 
During the Society of Cosmetic Chemists (SCC) Annual Scientific Meeting and Technology Showcase, to be held Dec. 13-15, 2021, in New York City, Ji will present a precision skin care method that combines artificial intelligence (AI) and machine learning with skin imaging to determine parameters including hydration, smoothness, skin tone, skin milieu, energy supply and dermal fibers.
Measuring these six essential skin health parameters, a personal Skin Radiance Score is derived to devise a custom action plan. "These [parameters] impact skin health and appearance by different biological processes," Ji explains. The resulting product regimen, commercialized as Revea, is formulated for the user's personal biology. 
The approach is based on layer by layer imaging of skin to assess its metabolic characteristics. Chaz Giles, founder and CEO of Revea, added that this reveals not only a characteristic of skin, but the mechanisms behind that trait. "There are many different biological paths to dryness, for example," he told Cosmetics & Toiletries.
Measuring, e.g., how light reflects off of various layers such as microvasculature, and the would healing capabilities of skin, among other factors, enables the image reconstruction of skin in 3D to see what is happening in skin and how it impacts overall radiance. "Based on the results, a patented ingredient matrix machine learning model predicts the most efficient ingredient combination for that specific skin profile," Ji continues. 
"Products are [then] customized similarly to a Coca-Cola Freestyle beverage dispenser," Giles said. He adds that the process is dynamic, changing as skin needs change, and users can track product results. 
"The introduction of precision skin care removes the inherent bias in today's product development and clinical process with a consumer-empowering, empirically-driven process," Ji concluded. "Measuring skin needs and creating a suitable treatment rooted in science allows for a transparent and objective approach to product recommendation, development and evaluation."
Register here for the Annual SCC Scientific Meeting.