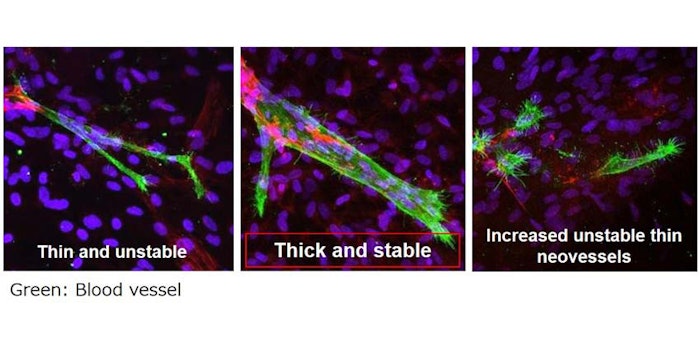 As previously reported, Shiseido has been studying the vasculature of skin as it relates to elasticity for anti-aging benefits. Takagaki Kazuki presented on this subject during the IFSCC conference in 2019. More recently, the company released new findings on the specific mechanisms at work.
According to a press announcement, APJ was identified as a molecule expressed in capillaries that acts as a "softness sensor;" to sense elasticity of the surrounding skin and control the thickness of the capillaries in response. In an experiment using skin models with various elasticity levels, researchers confirmed that an adequate elasticity environment upregulated APJ expression and induced thicker capillaries. In a low elasticity environment, APJ expression level was decreased and unstable, thin capillaries were induced. 
Downstream from APJ, the molecule VE-cadherin strengthens blood vessels by promoting adhesion between vascular endothelial cells. In another study, capillaries with low VE-cadherin level were found to become thinner and regressed. Furthermore, using skin models, researchers found that skin elasticity decreased with decreased VE-cadherin in capillaries.
Since aging and UV-induced damage are believed to reduce skin elasticity and the expression of softness sensor APJ, and both also cause VE-cadherin dysfunction, the next step was to screen for ingredients that can strengthen capillaries. The team successfully identified that neem leaf extract increased APJ expression, while Houttuynia cordata extract promoted VE-cadherin production.
Moving forward, Shiseido will pursue the development of new skin care products utilizing these findings to create resilient, youthful skin by providing care for capillaries.