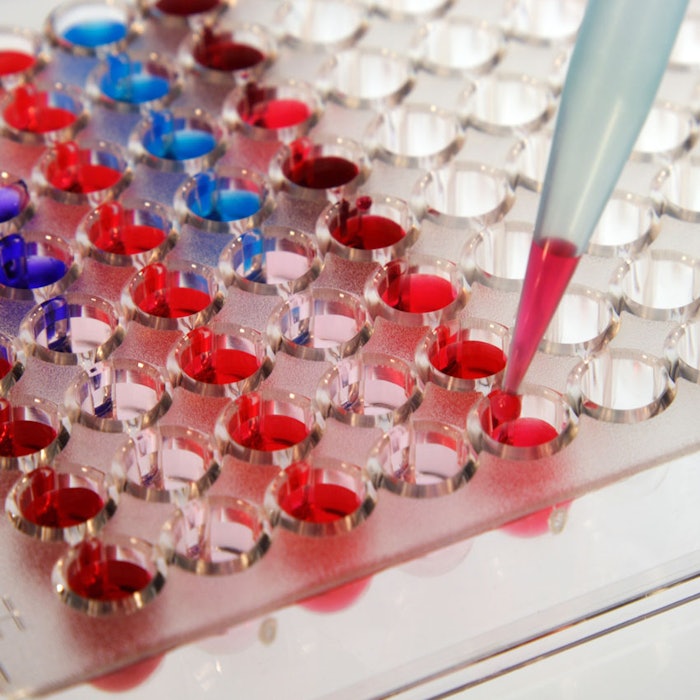 A new alternative to animal testing for skin sensitization has been developed and officially adopted: the human Cell Line Activation Test (h-CLAT), which was jointly developed by Kao Corp. and Shiseido Co., Ltd. Skin sensitization, or cutaneous allergic reaction, is a complex cascade of biological reactions, which has made the development of an animal test alternative to determine systemic effects difficult to say the least.
According to the protocol, there are four generally accepted aspects of sensitization, beginning with 1) the covalent binding of electrophilic substances from the irritant molecule to nucleophilic centers in skin proteins. 2) The second event takes place in the keratinocytes and includes inflammatory responses as well as gene expression associated with specific cell signaling pathways, such as the antioxidant/electrophile response element.
3) The third key event is the activation of dendritic cells (DC), typically assessed by the expression of specific cell surface markers, chemokines and cytokines. 4) The fourth key event is T-cell proliferation, which is indirectly assessed in the murine Local Lymph Node Assay. The h-CLAT method specifically was able to address this third key event.
The new h-CLAT test was adopted as the world's first alternative method to test skin sensitization, focusing on the in vitro replication of functions in immune cells. According to a report by World Press Online, this means we can expect a shift to alternative methods for testing the skin sensitization of tens of thousands of chemicals around the world annually. Particularly in Europe, which has already prohibited animal testing on all cosmetics products.
"h-CLAT" is also being considered to employ for quasi-drug application in Japan under the Ministry of Health, Labor and Welfare research grant. In addition, h-CLAT is reportedly now being established at various cosmetics companies.