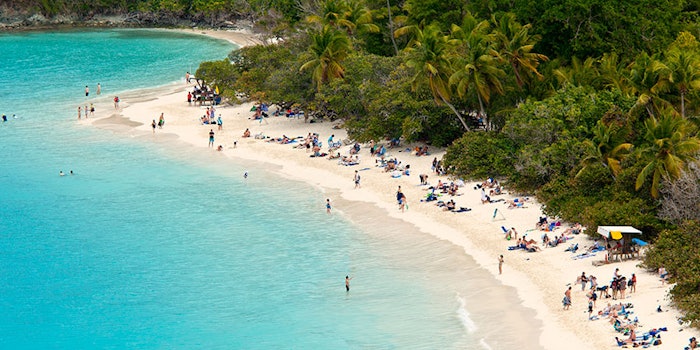 The U.S. Virgin Islands may be the next territory to ban the sunscreen ingredients oxybenzone and octinoxate, following the lead of Hawaii and the Florida Keys.
Citing the need to protect and preserve marine ecosystems—including coral reefs—Bill No. 33-0043 would ban the sale, importation and distribution of topical sunscreen and personal care products containing the two ingredients, unless otherwise prescribed by a licensed health care provider as described in the bill.
Related: Why the FDA's 'Sunscreens in the Bloodstream' Study is Flawed
The territory's Senate Committee on Government Operations unanimously voted to push the bill forward to the Rules and Judiciary Committee on Monday, May 20, 2019; if passed there, the ban will be sent to the full Senate for a vote.
Notably, the bill also states that, in most cases, it would be unlawful to "bring into, use or possess" products containing the ingredients while in the Virgin Islands; this suggests that consumers and travelers would also be responsible for monitoring their sunscreen ingredient lists.
Violators would be fined $1,000 and $2,000 for first and second offenses, respectively. If passed, the ban would go into effect on Jan. 1, 2021.
This is a developing story; continue to follow Cosmetics & Toiletries for updates on oxybenzone and octinoxate legislation. For more information, and to read the current bill's details in full, please visit www.legvi.org.