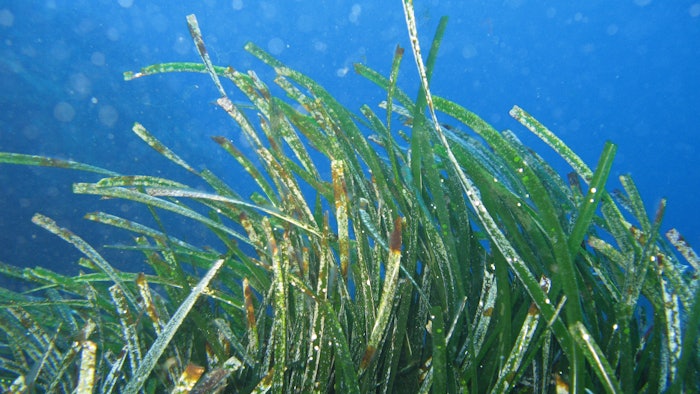 Prompted by recent concerns over the suspected negative effects of sunscreens in coral reefs, researchers on a new study sought to examine whether sunscreens could affect the seagrass Posidonia oceana. Findings were published in Marine Pollution Bulletin.
Plant materials were collected from three areas in Mallorca (Majorca), one of Spain's Balearic Islands in the Mediterranean. Eight sites were near busy and moderately busy tourism ports; two were in a pristine site. The authors noted in both ports, the seawater also receives wastewater treatment discharges and the P. oceana meadows located there were in unfavorable states of conservation, compared with the pristine sites.
See archived: Detecting Coral Stress in Response to Sunscreens
Rhizomes of the seagrass were found to have accumulated several UV filters. More specifically, benzophenone-3, benzophenone-4 (BP4), avobenzone, 4-methylbenzylidene camphor and 5-methyl benzotriazole (MeBZT) were identified; along with the preservative methylparaben (MePB). Of the samples analyzed, BP4 and MePB concentrations were highest in the samples taken from the busy and urbanized port; although BP4, MeBZT and MePB were present in samples from the pristine sites.
The authors noted P. oceana is endemic to the international coasts of the Mediterranean in tourism hotspots exposed to sunscreens. They likened this exposure to that of coral reefs in destinations including Hawaii, Florida and Palau—where some organic UV filters have been prohibited.
The authors concluded additional studies are needed to determine whether the seagrass is negatively impacted by these compounds, to assess whether the Mediterranean region should follow suit in prohibiting specified UV filters.
See archived: Key West Joins Hawaii in the Ban on Octinoxate and Oxybenzone