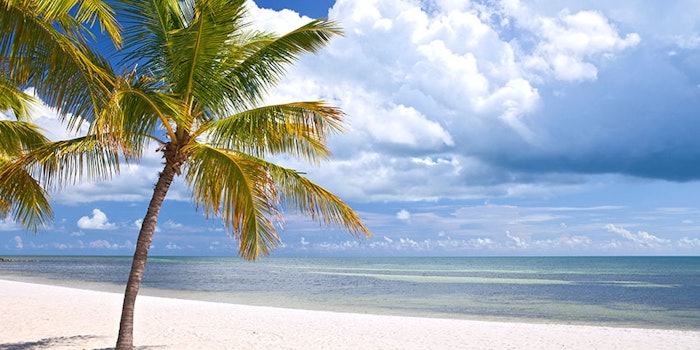 Experts predicted it, and now it is confirmed: the sunny beaches of the Florida Keys will no longer allow the use of sunscreens containing oxybenzone and octinoxate. Does this mean California is next?
According to a report by the Miami Herald, by a 6-1 vote, the Key West, Florida, City Commission banned the sale in the city limits of sunscreens that contain these ingredients. The ban will go into effect on Jan. 1, 2021. 
The report states the ban was instated based on studies showing these materials are harming the coral reef ecosystem in the Florida Keys. The regulatory effort aims to protect the only living coral reef in North America from alleged bleaching, DNA damage and death; notably, several industry experts have discounted the reported connections made between these sunscreens and coral reef damage, citing global warming as a more likely cause. 
In defense of these moves, Mayor Teri Johnston stated, "We have one reef, and we have to do one small thing to protect that. It's our obligation."
"Oxybenzone is an oil and it floats on the surface," added Patrick Rice, chief science and research officer at Florida Keys Community College. "These items should be banned as they have no place in our waters in the Florida Keys."
"It's not really not an emotional issue; it's really just science," said Joe DiNardo, a toxicologist who worked on the Hawaiian ban. "It's hard to do something about global warming. We can do something about chemical pollution today and that's what the whole concept is about."
Follow Cosmetics & Toiletries as we dig deeper into this issue and its larger implications in other regions.