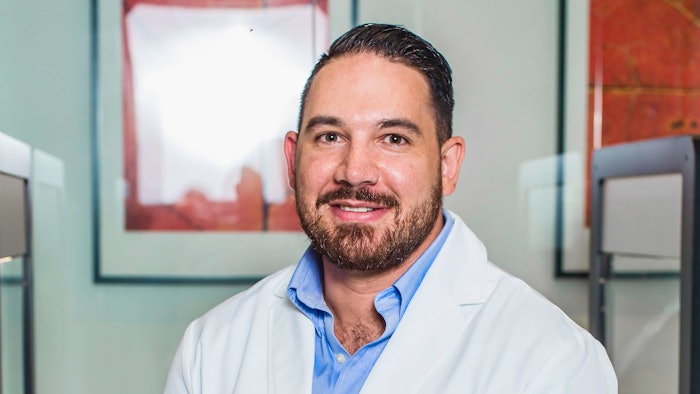 As previously reported, in March 2022, during a YouTube video, the winners of the 7th edition Cosmetic Victories competition were announced. The awards are presented by The Cosmetic Valley-ESSEC endowment fund.
See related: Cosmetic Victories Winner Profile; Sami Halila, Ph.D., on Green Gelling Agent for Oil Phases
Six finalists in two categories, academic and industry, were selected from 80 projects and narrowed down to two winners. Here, we profile the Industry Winner: SkinRNA Micro-cell Test from Derma Health Solutions Pty. Ltd. Stefan Mazy shares the details.
What is your innovation? How is it used?
SkinRNA is the world's first repeatable and affordable micro diagnostic test for measuring real-time skin care effectiveness. At its core is our DermR microneedle patch, which is also a first-of-its-kind patch designed to collect tiny amounts of skin tissue. The sample can then be sent to a laboratory to measure gene activity in real-time.
I envision SkinRNA testing and the DermR patch technology as a disruptor that will create a new DNA skin care personalization industry, forever changing how products are recommended to customers."
What is novel about it? How might it shape cosmetics and personal care product development?
The ability to investigate skin disease has primarily been limited to skin biopsies as one of the only ways to collect live tissue. This barrier has made it challenging to develop new research on skin health. We have created unique microneedle structures that can collect live skin cells. We have also made these designs to allow for scalability and mass manufacturing.
Our microneedle patch has been demonstrated to collect near equivalent information compared to a skin biopsy without pain, scarring or blood.
Within the cosmetics and personal care market, we envision this will revolutionize how consumers determine how effective skin care products are without waiting for visible results (if any).
Our process is simple:
Apply the DermR microneedle patch onto the face; it is then sent to a lab for testing.
Our algorithms help to determine the initial benchmarks for specific skin functions such as collagen production, elastin production, skin inflammation, ..., etc.
Brand-specific products are prescribed for 30-45 days.
A second test is taken and our algorithms then provide improvement scores; the test can be taken every 3, 6 or 12 months, allowing the customer to constantly track and monitor their skin journey at a genetic level. This creates the ultimate personalization experience.
See also: Cosmetic Victories Profile; Niki Baccile, Ph.D., on Biosurfactant-biopolymer Interactions
Where did your idea come from?
Thirteen years ago, I pioneered the world's first consumer skin genetics test called SkinDNA. This technology now represents 70% of all skin genetic tests on the market. The test is based on SNPs—tiny genetic variations you are born with and that can impact how genes function. This is a one-time test to provide insights into what skin challenges you could face.
The evolution in genetic science is with RNA. RNA is live genetic information that changes based on lifestyle factors such as sun exposure, skin care products and pollution. RNA has been relatively unstudied in skin health due to its instability. We set out to overcome this by learning from our past products and expertise.
What development challenges did you face in creating it? What skills or technologies supported your success?
I think everything we did was a challenge, which is what made it such an interesting project to create! Each step required a new way of thinking to overcome the obstacle.
The biggest challenge in this space is scalability and cost. Often, devices cannot be scaled for a larger production which limits its scope. Our patches were designed using advanced manufacturing methods and we have built custom tooling to allow for scalability while making it affordable.
Another challenge was figuring out how to collect live tissue while being pain-free and accessible at home, which took us two years to overcome.
I believe we had a unique team that allowed for us to overcome these challenges. Typically, when you think of genetics, you think of scientists. While they have been a vital asset in the development, we also thought outside the box and built a team that understood scalability, biomimicry, design and user experience, bioinformatics and dermatology.
What outcome do you anticipate from the competition? From your work?
We created the DermR patch to have a high barrier to entry for the market. Our business model sees us partnering with competition, allowing them to use our patch to build new research and ultimately open up a previously unobtainable research landscape.
From my work, there is big MedTech and BeautyTech potential. Within MedTech, we can deploy our DermR patch technology to provide easier and more affordable access to dermatological support. Within BeautyTech, I envision SkinRNA testing and the DermR patch technology as a disruptor that will create a new DNA skin care personalization industry, forever changing how products are recommended to customers.