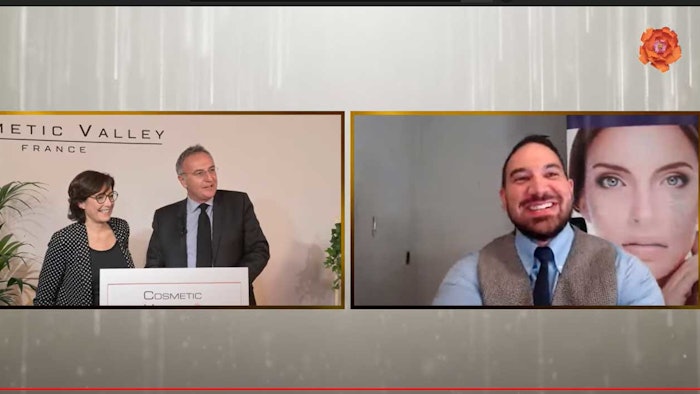 On March 22, 2022, during a YouTube video, the winners of the 7th edition Cosmetic Victories competition were announced. The awards are presented by The Cosmetic Valley-ESSEC endowment fund.
Six finalists in two categories, academic and industry, were selected from 80 projects by a committee of industry professionals and international scientific experts. Each winner receives a prize of €10,000 and the assistance of Cosmetic Valley.
See related: [updated] Cosmetic Victories 2021 Finalist Profile; 'Touchy Finger'
Academic: Green Gelling Agent, Biosurfactants for Stimuli-responsive Delivery, Algal Cell Milking and Deep Eutectic Solvents
Finalists for the academic prize included: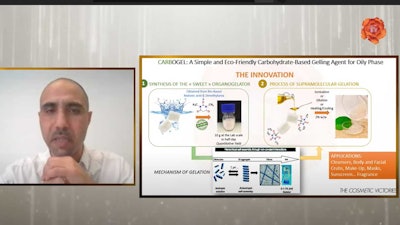 (WINNER) Centre de Recherches sur les Macromolécules Végétales–CNRS Grenoble (France), for its Carbogel—a simple and eco-friendly carbohydrate-based gelling agent for oil phases. According to the inventor(s), the project relates to the supramolecular gelation of organic liquids, such as organic solvents or oils, with monosaccharide derivatives that self-assemble into a hierarchical 3D network of nanostructures. The gelators are reportedly made using an eco-friendly and efficient method (reaction in water), and gelation can be performed by sonication, by heating/cooling, or by dilution. The gel is considered stimuli-responsive and acts as a controlled delivery matrix for cosmetic agents.


CNRS - Sorbonne University (France)'s biosurfactants for functional formulations.  According to the inventor(s), this project aims at developing stimuli-responsive formulations based on microbial biosurfactant (MB) amphiphiles and biopolymers (BP). MB are stimuli-responsive molecules produced by fermentation. They are 100% bio based, biodegradable and biocompatible. Their multiple phases (micelles, fibers, vesicles, etc.) form in diluted water at room temperature and can tune the properties of BP (e.g., elasticity, encapsulation release, hydrogelation) through a simple change in pH, temperature and ionic strength.


Wageningen University and Research (The Netherlands), for the organic microalgal farming and milking of cosmetic ingredients. Here, single-cell aquatic microalgae convert light, carbon dioxide and nutrients into sustainable molecules such as proteins, sugars, omega-3 oils, pigments and antioxidants since they do not require arable soil, fertilizers and pesticides. To this, a novel cell-milking system was applied to continuously produce microalgal-based emulsifiers, gels, colorants, oils, fragrances and antioxidants using low-intensity electric fields and a new generation of natural deep eutectic solvents.
See archived: Bio-inspired Microgels and Smart Delivery Claim Top Cosmetic Victories
Industry: Real-time Skin Test, Ecocatalysts for Fragrance, Nature-inspired Rheology Modifier
Finalists for the industry prize included:
(WINNER) Derma Health Solutions Pty. Ltd. (Australia)'s SkinRNA Micro-cell Test. According to the inventor(s), this is the world's first repeatable epigenetic diagnostic skin patch and laboratory test that quantifies skin care effectiveness via real-time gene expression activity. The device collects more than 15,000 genes while algorithms provide gene expression activity scores for skin functions including collagen and elastin production, and skin inflammation. After product intervention, a second test is performed measuring new gene activity against initial benchmarks. Consumers can then repeat testing at intervals to track and monitor skin improvement at a genetic level without waiting for visible signs.


BioInspir (France), for its generation of sustainable fragrances based on ecocatalysis. According to the inventors, this is a new branch of sustainable chemistry based on the use of ecocatalysts, which are plant-based catalysts, for green and innovative organic synthesis. Ecocatalysts reportedly allow the eco-responsible and bio-inspired synthesis of a wide range of cosmetics and perfumery ingredients. Fragrances such as methyldihydrojasmonate (Hedione) and linalool oxide have been synthesized in processes at the edge of green chemistry combining efficiency, speed, naturalness and eco-responsibility.


Finally, PolymerExpert (France), for its EstoGel Green nature-inspired polymer. This rheology modifier is designed for oils and offers high suspension ability. Based on a supramolecular approach, the ingredient can produce shear-sensitive, clear, oily gels with a soft, natural feel. It is 100% bio-sourced, COSMOS-certified and approved worldwide, combining performance, naturalness and sensoriality. The eco-designed and reportedly easy-to-process ingredient can serve as a key ally in the development of new-generation, responsible cosmetic products.