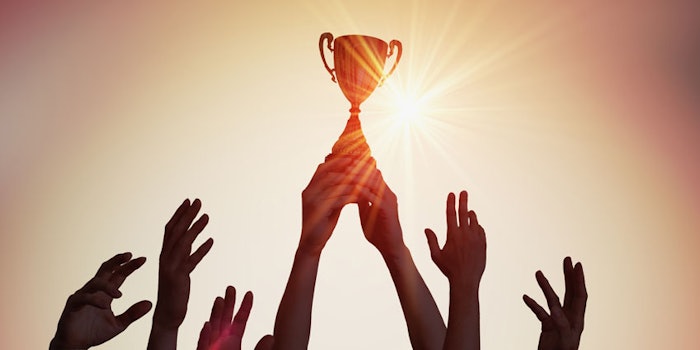 Cosmetic Valley announced the winners of its 6th Cosmetic Victories competition during a virtual presentation held on March 30, 2021. The global competition rewards and promotes innovative projects related to the perfume and cosmetics industries.
Previously: Cosmetic Valley Announces 2020 Cosmetic Victories Winners
Academic Prize: Bio-inspired Microgels
Professor Laurent Billon—of the Institut des Sciences Analytiques et de Physico-Chimie pour l'Environnement et les Matériaux (IPREM), UMR CNRS/UPPA 5254, Université de Pau et Pays de l'Adour UPPA, France—won the academic prize for bio-inspired microgels for cosmetics and other applications. IPREM's new generation of bio-inspired microgels are said to offer unique properties, opening the door to applications for cosmetics and health.
"Microgels are tiny sponges containing up to 95% water, with swelling/shrinking abilities under stimuli effect," explained Billon. "This unique ability can be used to encapsulate/release active ingredients and the water evaporation at the skin surface [to form] an adhesive, elastic and mechano-electrical film, which is used to gradually diffuse a cosmetic active ingredient."
See related: Cosmetic Valley to Announce 2021 Cosmetic Victories Winners
Industry Prize: Biorefinery-based Smart Delivery
Professor Marcin Lukaszewicz and Agnieszka Lewinska, Ph.D., of InventionBio SA in Poland won the industry prize for a biorefinery-derived smart delivery technology for skin care. The invention reportedly comprises green chemicals obtained from the company's waste-free, environmentally-friendly production process.
The technology is said to precisely deliver active substances to the skin, making it possible to lower the concentrations of active substances required to reduce costs without losing effectiveness. Reportedly, the solution may also improve the smell, color, safety and stability of products.
Jury Favorite: 'Touchy Finger'
Notably, Roberto Vargiolu, Ph.D., Laboratory of Tribology and System Dynamics (LTDS), was highlighted as the "jury favorite" with the "Touchy Finger" invention. This augmented human finger-connected object is capable of measuring the softness of skin, hair and all surfaces. Like the human finger, the device is equipped with vibration sensors and a sensor for measuring the contact force.
As previously described, this device comes in the form of a half-ring, which slides over the tip of the index finger. When touching a surface, the vibrations and pressure force recorded by the device are transformed into a softness parameter. This information is transmitted to a tablet via a Wi-Fi connection. The experimental results obtained showed a perfect correlation between the vibrations and the sensory classifi­cation of the groups of experts.