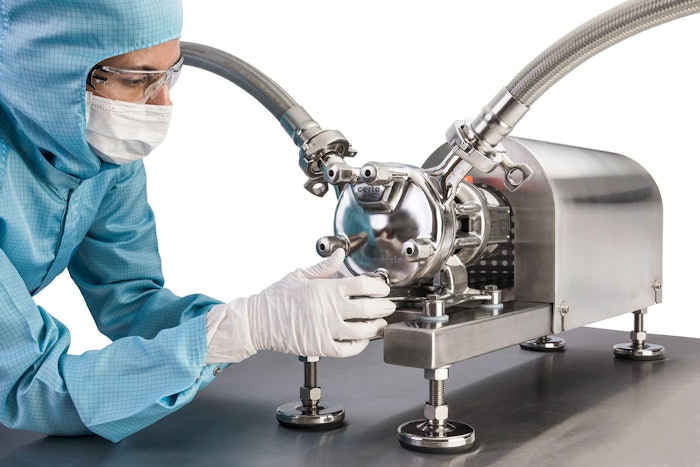 Image source: Watson-Marlow Fluid Technology Group
Watson-Marlow Fluid Technology Group (WMFTG) is now offering the MasoSine Certa Plus process pump to meet hygienic fluid handling applications in the cosmetic and personal care industries. These adaptable, easy-to-clean and energy-efficient pumps utilize a sinusoidal pumping action for gentle product handling.
Featured: Responsible R&D: Tips to Make Cosmetic Labs and Manufacturing More Sustainable
The fluid path design allows for enhanced cleanability using standard CIP or SIP methods. The Certa Plus is fully CIP proven to USP Class VI, FDA, EHEDG and 3A standards to avoid any potential product contamination caused by residuals after the cleaning process. According to the company, this Aseptic certification ensures that the pump is self-draining, has a reduced CIP cycle time and requires lower volumes of cleaning agents.
The simple maintenance performed in-place by the operator, together with 50% less power consumption compared with lobe and circumferential piston pumps, results in a low cost of ownership for process pumps in the cosmetic and personal care industries.
As each chamber of the Certa Plus pumps rotates, it conveys the fluid from the inlet port to the outlet port. At the same time, the opposite chamber opens to draw in more fluid resulting in a smooth flow with virtually no pulsation. This sinusoidal wave rotor design gently transfers valuable cosmetic and personal care products with minimal shear to prevent product damage and dispenses product into vials with 100% volumetric accuracy.
The Certa Plus process pump enables quick product changeover and varying temperatures to vary viscosities.