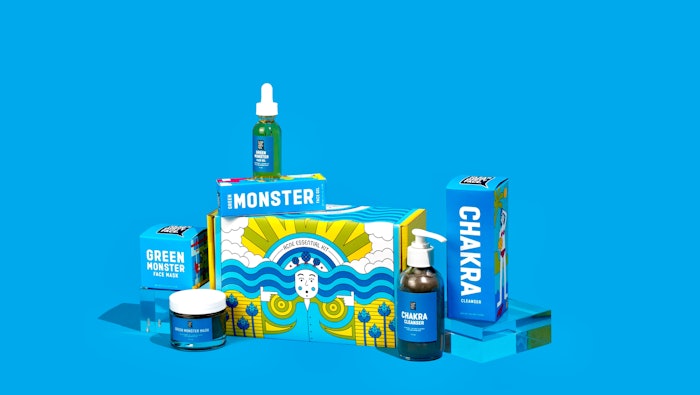 According to Clean Your Dirty Face, during summer months, a proper skin care routine can be easily neglected as consumers spend time outside or in the water. The brand adds that taking care of skin in the summer requires more than slapping on sunscreen, so to make shopping for the right products convenient, the online retailer has created skin care kits for anyone under the abrasive sun.
See related: L'Oréal Breaks the Ultra-long UVA Code with UVMune 400
The Goddess Kit is said to be perfect for anyone concerned about fine lines, dull skin and anti-aging but who doesn't know where to start. The kit includes the exfoliating Goddess Cleanser, Vitamin C Goddess Face Oil and the Goodnight Goddess Serum, for consumers to awake looking hydrated. SRP $119
Ingredients (Goodnight Goddess Serum): Sweet Almond Oil, Rice Bran Oil, Camellia Seed Oil, Vegetable Glycerin, Jojoba Seed Oil, Rosehip Oil, Evening Primrose Oil, Lavender Oil, Petitgrain Oil, Lemon Peel Oil, Sandalwood Oil, Neroli Oil.
The Men's Essential Kit is designed to detoxify pores, soothe shaving irritation and achieve clean, clear skin. The kit includes the Not Your Girlfriend's Face Mask, Savasana Stress Fix and Hey Handsome Face Oil that combine to purify the skin. SRP $119
Ingredients (Hey Handsome Face Oil): Grape Seed Oil, Almond Oil, Hemp Seed Oil, Argan Oil, Jojoba Oil, Blue Chamomile, Lavender, Lavandin, Lemon, Eucalyptus, Tea Tree, Geranium.
Lastly, the Acne Essential Kit is reportedly ideal for those experiencing breakouts, or who have acne-prone skin. The kit includes a charcoal-based Chakra Cleanser, Green Monster Mask and Green Monster Face Oil.  SRP $119
Ingredients (Chakra Cleanser): Distilled Water, Bentonite Clay, Glycerin, Witch Hazel, Almond Oil, Olive Oil, Sweet Almond Oil, Castile Soap, Aloe, Charcoal, Salicylic Acid, Lemon Peel Oil, Lavender Oil, Lavandula Hybrida Oil, Tea Tree Leaf Oil, Rosemary Leaf Oil, Sage Oil, Yellow Dock Root, Sodium Levulinate, Ethanol, Hydroxyacetophenone, Sodium Anisate, Citric Acid.