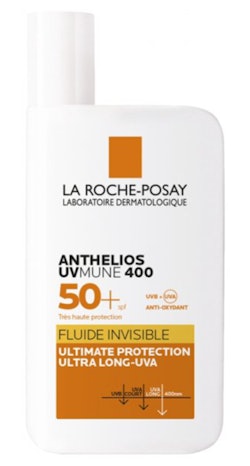 UVMune 400, powered by the active Mexoryl 400 (INCI: Not Provided), is reportedly L'Oréal's first sun-filtering technology to effectively protect the skin against ultra-long UVA rays—which according to the company, are the 30% of solar rays that, thus far, have been insufficiently filtered. This helps to prevent deep sun-induced skin damage. 
Previously: L'Oréal x Melanoma Research Alliance Partner for Early Detection
L'Oréal reports it took 10 years of research to design the performance engine, Mexoryl 400 filter and patent. The work has been the subject of six scientific publications. According to the company, with UVMune 400, the solar filtration range is increased by 20 nm. Notably, Mexoryl 400 also has been designed with an improved environmental profile. 
UVMune 400 is now available in the La Roche-Posay Anthelios franchise, the first brand from L'Oréal to use the technology. Anthelios UVMune 400 has been shown to shield against deep cell damage, which is linked to signs of premature aging and to prevent DNA lesions, which may lead to skin cancer. Tested on all skin types and phototypes, Anthelios UVMune 400 was launched in pharmacies in March 2022 and is available as either Invisible Fluid SPF 50+ or Hydrating Cream SPF 50+.
"Our L'Oréal R&I teams have successfully risen to the real scientific challenge of inventing a sun filtering technology to cover the UVA zone that was, so far, less covered," said Barbara Lavernos, deputy CEO in charge of research, innovation and technology at L'Oréal. "This allows us to provide our broadest filtration and protect the skin from the damaging effects of the sun; even the most insidious. This discovery is fully in line with the Group's approach of providing answers to public health issues, such as the risks linked to skin exposure to UV radiation."
"Sun protection is a key public health issue," said Laetitia Toupet, La Roche-Posay global brand president. "As a leading brand in sun care, we do our utmost to share derm knowledge and provide best-in-class protection in partnership with dermatologists. We are proud to raise the bar with Anthelios UVMune 400 to protect all types of skin against even the most insidious UV rays."

Ingredients: La Roche-Posay Anthelios UVMune 400 Invisible Fluid Fragrance-Free SPF 50+ 50 mL: Aqua/Water/Eau, Alcohol Denat., Triethyl Citrate, Diisopropyl Sebacate, Silica, Ethylhexyl Salicylate, Bis-Ethylhexyloxyphenol Methoxyphenyl Triazine, Ethylhexyl Triazone, Butyl Methoxydibenzoylmethane, Glycerin, Propanediol, C12-22 Alkyl Acrylate/Hydroxyethylacrylate Copolymer, Methoxypropylamino Cyclohexenylidene Ethoxyethylcyanoacetate, Perlite, Tocopherol, Caprylic/Capric Triglyceride, Acrylates/C10-30 Alkyl Acrylate Crosspolymer, Caprylyl Glycol, Diethylamino Hydroxybenzoyl Hexyl Benzoate, Drometrizole Trisiloxane, Hydroxyethylcellulose, Terephthalylidene Dicamphor Sulfonic Acid, Triethanolamine, Trisodium Ethylenediamine Disuccinate.