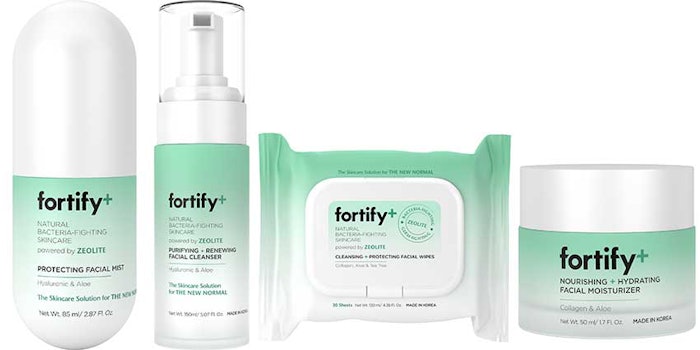 Fortify+ Skincare is a natural antibacterial skin care collection designed to deliver bacteria- and germ-fighting solutions that protect and nourish the skin through zeolite—a natural volcanic mineral.
Featured: Industry Insight: Antibacterial Functionality Enters Hair Care
Zeolite was clinically proven to slow the growth of germs, bacteria and microorganisms for extended periods of time, according to the company. The material is FDA GRAS listed, INCI registered and reportedly safe for skin. 
Furthermore, pairing zeolite with ingredients such as collagen, hyaluronic acid and aloe, Fortify+ products deliver hydrating and anti-aging benefits, helping to protect the face without the drying or damage typically observed with alcohol-based options. The product offerings range from protective facial wipes to on-the-go antibacterial protective facial mists, hydrating facial sheet masks and a moisturizing serum.
Ingredients (Fortify+ Cleansing & Protecting Facial Wipes): Water (Aqua), PEG-6 Caprylic/Capric Glycerides, Methylpropanediol, Glycerin, Bellis Perennis (Daisy) Flower Extract, Sodium Hyaluronate, Aloe Barbadensis Leaf Extract, Zeolite, Allantoin, Panthenol, Sodium Citrate, Citric Acid, Caprylyl Glycol, Decylene Glycol, Laurylpyridinium Chloride, Levulinic Acid, Sodium Levulinate, Benzyl Benzoate, Dipropylene Glycol, Benzyl Salicylate, Linalool, Methyl dihydrojasmonate.
Previously: La Moit Releases Line of Wellness Antibacterial Body Perfume