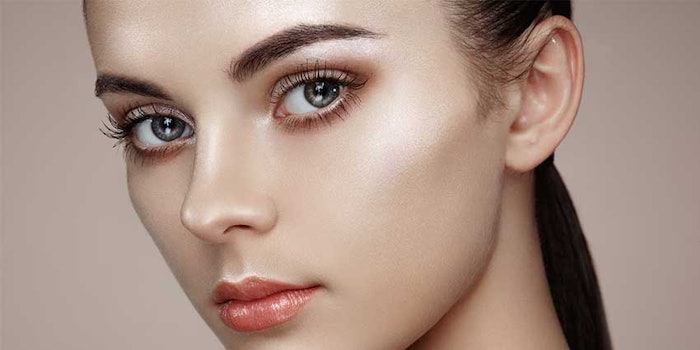 Givaudan Active Beauty developed Skin Care Highlighter, a microbiome friendly, transforming gel for the cheekbones that can be added to both the typical skin care and makeup routine.
Givaudan's Skin Care Highlighter creates a transparent nude look that offers the right bioactives to deliver long term results. This microbiome friendly skin corrector is highly concentrated in active ingredients to illuminate the skin for a natural and makeup free result. The product's transparency and finish merges with consumers' skin care routines, while seizing the opportunity to develop beauty looks for all skin tones.
See related: Perricone MD Relaunches No Makeup Skincare
Shan Godbille, strategic marketing and CMI manager said, "We have identified that healthy glowing skin is strongly desired by women around the globe. Many brands are shifting their positioning from whitening to illuminating and globally, new skin care launches with illuminating and brightening claims have increased from 16% to 25%2 between 2015 and 2019."
"Skin Care Highlighter" is a single-use concept and can also be applied on the chin, nose, upper lip and around the eyebrows. The product becomes added to the growing list of multi-beneficial products for consumers by delivering face shaping effects, sustainable skin care benefits and sensory experiences.
Infused by six active ingredients, Skin Care Highlighter is claimed by Givaudan to replump the "apple muscles," coming from upcycled vetiver roots, Vetivyne (INCI: Vetiveria Zizanoides Root Extract (and) Propanediol (and) Water (Aqua)) contains anti-aging properties and provides volume for the face.
Flashwhite Unispheres (INCI: Mannitol (and) Cellulose (and) Titanium Dioxide (and) Citrus Medica Limonum (Lemon) Fruit Extract (and) Cucumis Sativus (Cucumber) Fruit Extract (and) Hydrogenated Castor Oil (and) Glyceryl Stearate Citrate (and) Decyl Glucoside (and) Hydroxypropyl Methylcellulose)  causes the effect to visually brighten complexion and skin tone. The effect is sustained by Brightenyl (INCI: Glycerin (and) Water (Aqua) (and) Diglucosyl Gallic Acid), a skin complexion bioptimiser reducing pores' sizes and skin redness.
Balance and activate the skin's microbiome with Yogurtene Balance (INCI: Inulin (and) Yogurt Powder), a prebiotic and paraprobiotic to balance the skin microflora. Hydrate the skin with Unitamuron H-22 (INCI: Pentylene Glycol (and) Tamarindus Indica Seed Gum), a vegetal-like hyaluronic acid that is claimed to have a melting, velvety-smooth and moisturizing effect onto the skin. It is combined with Cristalhyal (INCI: Sodium Hyaluronate), a high molecular weight hyaluronic acid to prevent skin dehydration.
For more information, visit the Givaudan Active Beauty website.